Traditional security solutions like firewalls and legacy antivirus are not effective against advanced threats like zero-day vulnerabilities and advanced persistent threat (APT) attacks. Advanced threats require advanced threat protection, which focuses on real-time response. Advanced threat protection solutions leverage UEBA and AI to reduce false positives and ensure swift and active protection against data breaches.
Advanced Threat Protection Solutions
There are a variety of ATP solutions you can choose from. Below we review three popular ATP products.
Cynet 360 AutoXDR™
Cynet 360 AutoXDR™ is an APT solution you can use to automate detection and response in your systems. It is made of three components:
Monitoring and Control
Monitoring and Control features are designed to help you automate visibility tasks and reduce your attack surface. Features include file integrity monitoring, system and application vulnerability detection, report export capabilities, and activity log analysis.
Prevention and Detection
Prevention and Detection features are designed to help you apply next-generation tooling to system protections. It enables you to analyze user, endpoint, and network events and correlate data for greater visibility. Tooling that is incorporated includes next-gen antivirus, endpoint detection and response (EDR), deception technologies, user behavior analytics, and network analytics.
Response Orchestration
Response Orchestration features are designed to help you automate response actions via playbooks. It can help you handle a variety of events, including malware, malicious network traffic, compromised credentials, and infected hosts.
You can incorporate Response Orchestration capabilities into existing protections, such as Active Directory or firewalls. Or, you can use capabilities to respond directly on endpoints.
Microsoft Defender Advanced Threat Protection
Microsoft Defender Advanced Threat Protection is a platform designed to protect Windows 10 users from modern attacks. It combines on-device utilities with utilities and tools in the cloud to provide system-wide protection.
Incorporated utilities and tools include:
Endpoint behavioral sensors—sensors are embedded in Windows 10 devices and can collect and process event data. Collected data is then sent to a cloud instance of Microsoft Defender ATP for analysis.
Cloud security analytics—uses big data analytics, machine learning, and proprietary methods to evaluate system data. After analytics are performed, users are provided system insights, alerts to possible suspicious behavior, and recommendations for action.
Threat intelligence—intelligence is produced by Microsoft hunters and security experts. This intelligence is incorporated into Microsoft Defender ATP to help identify attack methods, processes, and tooling.
Mimecast Advanced Threat Protection
Mimecast Advanced Threat Protection is part of a larger Cyber Resilience Platform offered by Mimecast. It primarily focuses on managing and protecting email security to prevent phishing, malware, and other cyber threats that exploit mail systems.
Mimecast Advanced Threat Protection includes features for:
Secure email gateways with multi-layered detection
Targeted threat protection against malware attachments and false links
Scanning and quarantine capabilities to prevent data leakage
Secure messaging with built-in encryption
Sending large files without needing to use filesharing services
Advanced Threat Detection and Protection with Cynet 360 AutoXDR™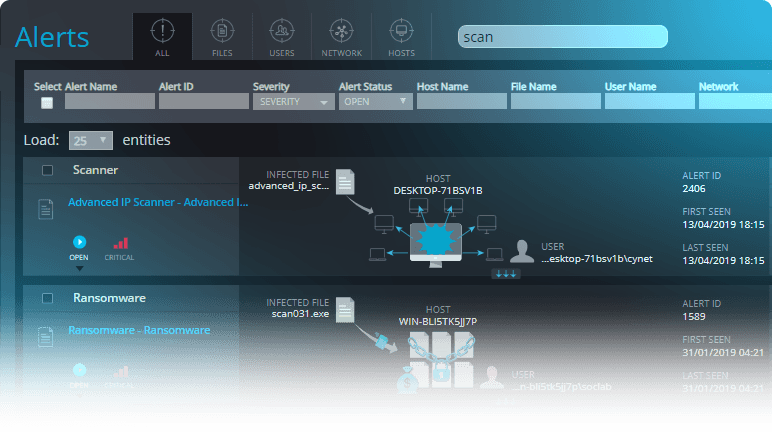 Cynet 360 AutoXDR™ is a holistic security platform that provides advanced threat detection and prevention. The platform employs cutting-edge technologies to ensure advanced threats do not slip past your security perimeter. To achieve this goal, Cynet 360 AuotXDR™ correlates data from endpoints, network analytics and behavioral analytics, and presents findings with near-zero false positives.
Block exploit-like behavior
Cynet monitors endpoints memory to identify behavioral patterns that are readily exploited, such as unusual process handle requests. These behavioral patterns lead to the vast majority of exploits, whether new or known. Cynet is able to provide effective protection against Advanced Persistent Threat (APT) attacks and more, by identifying such patterns.
Block exploit-derived malware
Cynet employs multi-layered malware protection, including sandboxing, process behavior monitoring, and ML-based static analysis. Cynet also offers fuzzy hashing and threat intelligence. This makes sure that even if an advanced threat establishes a connection with the attacker, and downloads additional malware, Cynet will stop this malware from running, thus preventing any harm from occurring.
UBA
Cynet continuously monitors user behavior, generates a real-time behavioral baseline, and provides alerts when behavior deviation is identified. This deviation in behavior may indicate a compromised user account. Additionally, Cynet provides the ability to define user activity policies, triggering an alert in case of violation.
Deception
Cynet supports the use of decoy tokens—data files, passwords, network shares, RDP, and others—planted on assets within the protected environment. APT actors are highly skilled and therefore might evade detection. Cynet's decoys lure such attackers, prompting them to reach out and reveal their presence.
Uncover hidden threats
Cynet uses an adversary-centric methodology to pinpoint threats throughout the attack chain. Cynet thinks like an adversary, identifying indicators and behaviors across endpoints, users, files, and networks. They supply a holistic account of the attack process, regardless of where the attack may try to penetrate.
Accurate and precise
Cynet utilizes a powerful correlation engine and provides its attack findings free from excessive noise and with near-zero false positives. This makes the response for security teams easier so they can attend to pressing incidents.
Choose from manual or automatic remediation. This way, your security teams can have a highly effective yet straight-forward way to disrupt, detect, and respond to advanced threats before they have the chance to do damage.
Learn more about the Cynet 360 AutoXDR™ security platform.
Learn More About Advanced Threat Protection
There's a lot more to learn about network attacks. To continue your research, take a look at the rest of our blogs on this topic:
Advanced Threat Detection: Stopping Advanced Attacks in their Tracks
Advanced threat detection is a set of tools and methods you can use to detect attacks that evade traditional security measures. The amount of data collected and stored by organizations is constantly increasing. This has encouraged attackers to come up with creative new attacks. Most of these attacks are not detected by traditional tools, such as antivirus, firewalls, or intrusion prevention systems. However, advanced threat detection solutions can help prevent these attacks by using more dynamic methods.
Read more: Advanced Threat Detection: Stopping Advanced Attacks in their Tracks
Malware Prevention: A Multi-Layered Approach
Malware is a general term describing any program created to damage or illegally retrieve information from a computer system. Hackers use malware to invade, damage or disrupt networks, computer systems, and devices. Their goal may be direct financial gain, data exfiltration, corporate espionage, sabotage or revenge (for instance in the case of disgruntled employees), or hacktivism.
Read more: Malware Prevention: A Multi-Layered Approach
Social Engineering Prevention
Social engineering is a method used by attackers to trick and mislead users into providing confidential information or acting in a way that compromises security. The most popular social engineering attacks include phishing attacks, baiting manipulates, scareware, and pretexting attack. This article explains the concepts of social engineering attacks, including five examples of attacks, and how you can prevent them.
Read more: Social Engineering Prevention
Ransomware Removal, Protection, and Prevention
Ransomware is a type of malware that encrypts user data, making it useless to the victim. The attacker demands a ransom payment in exchange for the decryption of data. Payment is usually demanded in cryptocurrency, and the costs can range between hundreds and thousands of dollars. Even if the ransom is paid, there is no guarantee that the data will be restored.
This article reviews the targets and types of ransomware attacks and the actions you can take if you are a victim of an attack.
Read more: Ransomware Removal, Protection, and Prevention
Zero-Day Attack Prevention: 4 Ways to Prepare
A zero-day exploit is a technique or method hackers can use to attack systems that have an unknown vulnerability. A zero-day attack is the actual use of a zero-day exploit to penetrate, cause damage, or steal data from the affected system. Zero-day attacks are difficult to defend against. But there are many ways to prepare and reduce the effective threat to your organization like patch management or incident response strategy.
Read more: Zero-Day Attack Prevention: 4 Ways to Prepare
Threat Detection and Threat Prevention: Tools and Tech
Threat detection is an organization's ability to monitor events in its IT environment and detect real security incidents. Threat prevention is the ability to block specific threats before they penetrate the environment or before they do damage. Detection and prevention go hand in hand—in order to prevent threats, you must be able to detect them in real time.
Discover cutting edge tools and technology that can help you achieve threat detection and prevention in a modern, distributed IT environment.
Read more: Threat Detection and Threat Prevention: Tools and Tech
Network Analytics: From Threat Detection to Active Prevention
Network analytics involves collecting, monitoring, and analyzing network traffic. The insights gained from network analyses can help you identify threats on a network and mitigate them, optimize performance and capacity planning, and monitor cloud resources.
Learn how you can leverage network analytics software to optimize performance and capacity planning, improve security, and monitor cloud resources.
Read more: Network Analytics: From Threat Detection to Active Prevention
Threat Hunting: 3 Types and 4 Critical Best Practices
Threat hunting is a method of actively searching for undiscovered network threats lurking in a network. Threat hunting goes deeper than other investigative techniques to find evasive malicious actors who have managed to bypass an organization's defenses.
Understand the importance of threat hunting, discover threat hunting styles, and learn best practices to make your threat hunting more effective.
Read more: Threat Hunting: 3 Types and 4 Critical Best Practices
7 Cyber Security Frameworks You Must Know About
A cyber security framework provides national and industry security leaders a common language and a set of standards that can help them evaluate, improve, and monitor their security posture.
Understand how your organization can benefit from cyber security frameworks and discover top 7 frameworks from organizations like NIST, ISO, and CIS.
Read more: 7 Cyber Security Frameworks You Must Know About
What Is Cyber Threat Intelligence (CTI)?
Cyber threat intelligence (CTI) consists of information related to cyber threats and threat actors. It incorporates various sources to help identify and mitigate harmful events and potential attacks occurring in cyberspace.
Understand Cyber Threat Intelligence (CTI), the practice of collecting cyber threat and threat actors information to support security operations.
Read more: What Is Cyber Threat Intelligence (CTI)?
See Our Additional Guides on Key Machine Learning Topics
Together with our content partners, we have authored in-depth guides on several other topics that can also be useful as you explore the world of machine learning.
Authored by Cloudinary
Machine Learning Engineering
Authored by Aporia
Authored by Datagen