Back to Blog
Cynet is #2 in G2's Best Security Products List!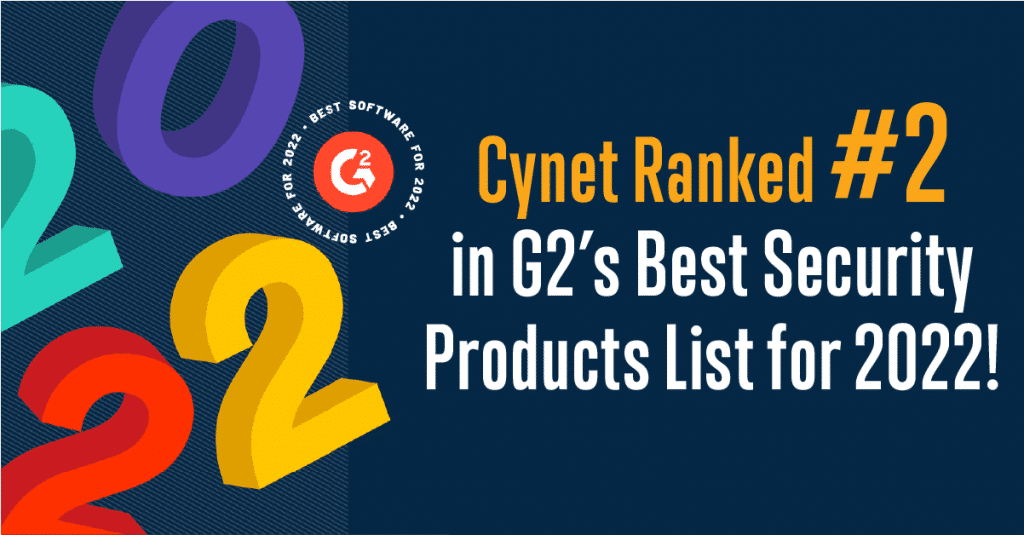 G2 has been very kind to us this year. Today they announced their 50 Best Security Products List and we are so proud to be seated in the #2 spot!
We had recently discussed our acknowledgment from G2 in our previous blog and are more than thrilled to be discussing this again with the new list.
Why are we excited to be on the Best Security Products List?
To use the words of G2 in VentureBeat's article 50 Security Products that Customers Really Love also posted today, " it's a reflection of a heavy volume of very positive customer feedback, satisfaction, and value, as well as a demonstrable market presence." We couldn't be more excited to hear that all the hard work to be the very best for our customers is being acknowledged – especially to the point of award.
MDR is top of mind for security professionals
In that same article, author Kyle Alspach states that G2 specifically called out MDR as being in high demand for information on their site. As threats continue to evolve and increase, the need for external assistance is proving to be more and more critical to an organization's security program's success. The intense growth of traffic for this information is of the likes of 500% between 2020 and 2021.
Why is the growth so significant?
Aaron Walker of G2 is quoted as saying "Endpoint security is a broad and difficult task that's increasingly complicated with remote workforces, networks, data centers, etc. – and relying on a managed service can be quicker and easier than fully-fledged development and staffing." This is further validation for us as 360 degree platform: the industry needs options to share the burden of the threat landscape today.
What other categories were notable?
Among MDR and EDR, a couple other security categories made a splash: patch management and firewall software. Patch management has been publicly resurfacing as a critical security control in the midst of Log4Shell. As our CyOps team discussed in their blog last week – unpatched systems can be a gaping hole for attackers. As for firewalls, in the age of the cloud and remote-first work environments – virtual appliances are at an all-time high.
Moving on up
Again, we couldn't be more delighted to see this feedback in the wild. Everything we do is for our customers, and the validation fuels our efforts. There were some really big names on the list that were below us, Check Point, Crowdstrike, and Microsoft to name a few. We strive to continue to provide the absolute best for our customers and the industry in general – and these types of acknowledgements help fan that flame.