Back to Blog
6 steps to building a lean security framework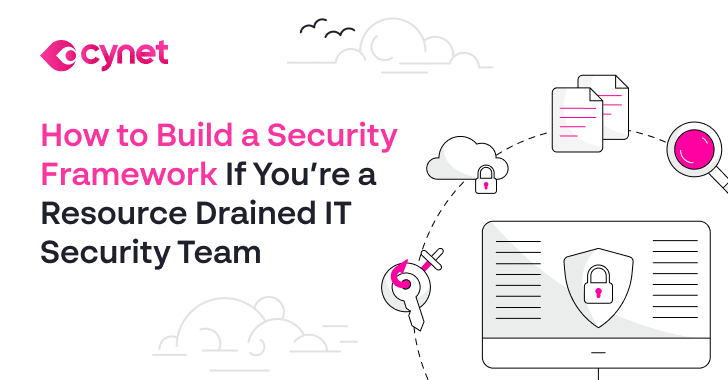 "Patchwork enforcement mechanisms continue to hamper efforts to control cybercrime."
– World Economic Forum
They don't work to defend against cybercrime either. That's why you need an iron-clad security framework. But if you think resources are a barrier to building one — think again. Because you don't need a massive tech stack (or budget!) to keep systems and data safe. You just need to be strategic.
See how to get started in just six steps now.
---
Now, you're probably wondering if simply grabbing a list of best practices would be easier right about now. You could certainly go that route — as long as you don't mind securing only HALF your data and wasting your budget on unnecessary controls. And we both know that's not the case.
So let's dive in, shall we?
Step 1: Start with Industry Frameworks and Standards
You don't have to build your security framework from the ground up. Pre-established industry frameworks can serve as the foundation. Start with the Center for Internet Security's (CIS) Critical Security Controls and the National Institute of Standards and Technology's (NIST) Cyber Security Framework.
From there, you can build up with the standards specific to your industry. For example, if you accept credit cards for goods or services, you'd use the Payment Card Industry (PCI) Data Security Standard (DSS).

Step 2: Don't Forget about Cloud Security
Most companies store 50% or more of their data in the cloud. If you're one of them, then CIS and NIST will fall short because they're designed for organizations hosting everything on-premises.
Level up your security with recommendations from the Cloud Security Alliance's Cloud Controls Matrix and Shared Responsibility Model.

Step 3: Ditch Unnecessary Controls (and Costs)
The cornerstone of lean security is cutting what you don't need, especially when it comes to controls. It's no secret storing your data unencrypted is risky, but you (and most organizations) do it anyway because it's more cost-effective and impacts performance.
That's an example of accepting risk to advance a business objective.

Step 4: Find Security Workarounds
Threat. Technology and integration. Cost. Third-party vendors. They're the four thorns in most IT security managers' sides.
Why? Because implementing more controls to manage them only introduces greater complexity and cost.
Consider using extended detection and response (XDR) to integrate your tech stack and a managed detection and response (MDR) service to augment your boots on the ground.

Step 5: Transfer Some of Your Risk
You simply can't control (or even anticipate) all the risks your company will face.
That's why organizations are increasingly transferring some of their risk to cybersecurity insurance providers. Plan for the unexpected and look into a cyber policy.

Step 6: Get the Guide
Now that you've taken five steps towards building your lean security framework, get Cynet's  guide, "How to Build a Security Framework If You're a Resource Drained IT Security Team."
Just because you have a small and resource-drained security team doesn't mean you can't have a comprehensive security program.
Find out how. Check out the guide!