Back to Blog
Critical Issue Opened Private Chats of Facebook Messenger Users Up to Attackers
An estimated 1.8-billion active monthly users trust Facebook to keep their accounts, user details and communications secure. On the one hand, the social network is based on sharing: users post some 350-million photos daily and nearly 300-thousand statuses per minute. On the other hand, there is Facebook Messenger, one of the network's most popular features, with 1-billion active monthly users. Unlike photo and status features designed specifically for sharing and publishing, the power of Messenger is in the ability to communicate privately.
(To learn more how Cynet can help protect from all types of threats, click here)
The 'Untechnical' Explanation
In this post, we will describe a severe security vulnerability found on Facebook, which also potentially affects millions of websites using origin null restriction checks, threatening user privacy and opening site visitors up to malicious entities. The hack, dubbed "Originull," enables an attacker to access and view all of a user's private chats, photos and other attachments sent via Facebook Messenger. The issue was discovered and reported to Facebook by team researcher Ysrael Gurt.  (Facebook has since fixed the flawed component.)
The vulnerability discovered is a cross-origin bypass-attack which allows the hacker to use an external website to access and read a user's private Facebook messages. Normally, the browser protects Messenger users from such occurrences by only allowing Facebook pages to access this information. However, Facebook opens a "bridge," in order to enable "subsites" of Facebook.com to access Messenger information. A vulnerability in the manner in which Facebook manages the identity of these subsites makes it possible for a malicious website to access private Messenger chats.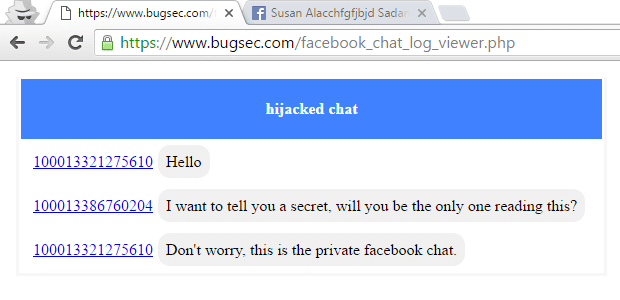 Image 1: The chat appears on the BugSec website. The user ID is shown to the left.
For example, if the user opens a website to which the hacker has directed them (via a malicious ad, a security issue, or the hacker's own website), the hacker can then see all the Facebook Messenger chats, photos and other attachments which the user sends or receives. This happens even if the user sends the messages by way of another computer, or from their personal mobile device!
Watch the Facebook Messenger Originull video:
To read the complete findings, download the Facebook Originull Privacy Hack report.