Back to Blog
Cynet Free Visibility Campaign Provides Full Insight into Internal Network
One of the biggest challenges facing IT security teams is protecting organizational assets, as this entails achieving visibility into all aspects of the internal network, while eliminating exposed attack surfaces. When resources are strained and management and integration frequently must be carried out manually, this further eats into the valuable time and manpower of teams already stretched to the limit.
In the effort to assist organizations as they strive to achieve secure status, Cynet is offering free 14-day access to its full system visibility capabilities. This visibility includes host configurations, installed software, user account activities, password hygiene and network traffic, among others.
Organizations whose regular tasks include patching applications, applying change management procedures and tracking software are especially vulnerable to the reduced visibility that Cynet is working to solve. These organizations frequently find themselves carrying out mission-critical tasks even as they lack visibility into what is occurring in their network.
Service providers also find themselves confronting this situation on a larger scale. MSSPs and other providers can utilize Cynet 360 to better meet their customers' needs by increasing efficiency of security monitoring workflows.
Cynet enables carrying out and automating tasks such as:
Verifying missing system and app security patches.
Counting hosts, identifying OS and software versions in use.
Creating asset inventory reports.
Detecting dangerous user accounts and network connections.
Cynet Vulnerability Assessment
Cynet Network Topology View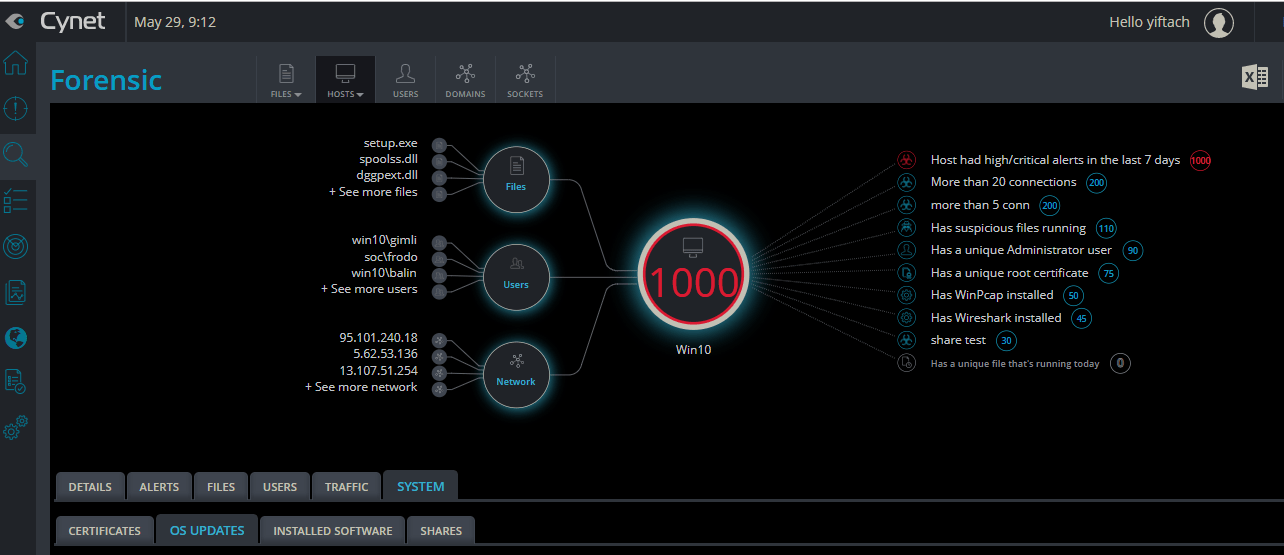 Cynet Activity Context View
Cynet Installed Software Display
IT and security professionals, including end-users and service providers can take advantage of the Cynet Free Visibility Offering to increase the visibility throughout their internal network.