Back to Blog
How Do You Know If You're Getting Enough Value From Your EDR Solution?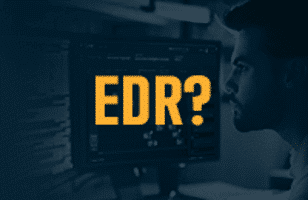 Many companies use Endpoint Detection and Response (EDR) solutions as their primary breach prevention technology.  Compared to AntiVirus (AV) and so called Next Gen AntiVirus (NGAV), EDR packs in far more capabilities.  Most EDR solutions have NGAV threat prevention capabilities baked in, and then add in the ability to detect endpoint threats that have bypassed the prevention mechanisms.  EDR solutions fundamentally take the approach that because we cannot ensure all threats will be prevented, we must be able to detect endpoint threats that have bypassed our prevention technologies. 
EDR solutions also provide more advanced response capabilities, mostly in the form of forensic information to help investigators and threat remediation capabilities triggered by certain alerts.  While EDR was a good start, newer Extended Detection and Response (XDR) solutions provide comprehensive EDR capabilities, while additionally extending both the detection and response capabilities of EDR solutions. XDR essentially consolidates several prevention and detection solutions into a single platform, providing better visibility and therefore the ability to combine various alerts into holistic incidents. This enables higher accuracy and more comprehensive, automated remediation actions. 
If you're wondering whether your EDR solution is still providing the value you expect, and whether newer security tools like XDR may provide a better value, we've developed five basic questions to help guide your assessment.  Given that some XDR solutions cost the same as EDR solutions, the eBook will help you decide if you're getting enough "bang for your buck" from your EDR provider.  [click here to access 5 Questions to Determine: Is Your EDR Providing the Best Bang for Your Buck?] 
Five Questions
For each question, the eBook provides more context around each question, along with a short discussion of how XDR generally, and Cynet XDR specifically, can potentially provide significant improvements over your existing EDR solution.  
Does your EDR provide

sufficient visibility and protection?
Many organizations are unfortunately finding that new advanced threats are able to bypass EDR. For example, most EDR solutions cannot detect lateral movement of a successful attacker that has successfully bypassed EDR and is now probing your network for higher value assets.
Does your EDR provide automated playbooks to take all necessary remediation actions across endpoints, networks and users to fully eliminate threats
Many EDR tools are able to automatically detect and remediate a variety of endpoint threats.  To fully remediate a threat, organizations have to work outside of their EDR solution to take action at the network and users levels, as well as other environment components such as firewall, proxy and active directory.  Wouldn't it be faster and easier to do this all from a single, unified platform?
Does your EDR solution provide automated investigation and response actions?
Cynet argues that identifying and remediating a threat be the starting point of an investigation as it may very well be part of a larger attack scenario. High-risk threats should subsequently be investigated to determine the root cause and full extent of the attack across your environment.  And, remediation actions should automatically be taken to fully eradicate all components of the attack.
Does your EDR vendor charge extra for MDR services?
Larger enterprises can leverage Managed Detection and Response (MDR) to help overburdened security staff and augment their skills. Smaller enterprises can leverage MDR service to add missing cybersecurity expertise and Incident Response tools.  
Does your EDR solution include Deception Technology?
Large enterprises rely on Deception technology to detect attackers that have successfully infiltrated the environment.  Deception technology uses decoy hosts, files, networks, etc. that, when accessed by an attacker, expose their presence.  While Deception technology is very beneficial, it's expensive, difficult to deploy and manage, and usually only leveraged by large enterprises with deep pockets. 
Don't Get Caught in the Complacency Trap
As the great P.T. Barnum once said, "Comfort is the enemy of progress."  I expect most security professionals are actually not very comfortable protecting their organizations from an ongoing barrage of cyberthreats.  But, they're so busy that they don't have time to  take a step back and reevaluate their approach. 
XDR really is "one of those" technologies that can actually provide meaningful relief to an overworked security team. XDR builds on EDR, but is able to provide more accuracy and automated capabilities, which is exactly what's needed in today's frantic world of cybersecurity.  Newer XDR solutions check these boxes and could very likely provide more value than your current EDR solution, without the need to increase your budget.