What Is CrowdStrike?
CrowdStrike is a cybersecurity technology company that provides cloud-based endpoint security. It offers a software platform that prevents, detects, and responds to potential cyber threats. CrowdStrike's primary asset is its Falcon platform, a single, lightweight agent that is cloud-native and improves threat visibility.
CrowdStrike's real-time monitoring and recording feature provides visibility into an organization's threat landscape, making it easier to identify and address potential vulnerabilities.
However, as with any product or service, CrowdStrike has its own set of disadvantages and limitations that might lead some businesses to consider alternatives. We'll explore some of these shortcomings and cover several solutions you can consider as an alternative to CrowdStrike.
CrowdStrike Disadvantages and Limitations
Pricing
One of the most significant drawbacks of CrowdStrike is its pricing. It comes with a hefty price tag that not all businesses can afford. Small and medium-sized businesses, in particular, may find CrowdStrike's cost prohibitive.
Furthermore, CrowdStrike operates on a subscription-based pricing model, which can be quite expensive in the long run, compared to fixed price licensing models. While this model offers flexibility, it might not be the most cost-effective choice for companies with a tight budget.
Deployment Issues
The initial setup and configuration of the CrowdStrike platform can be quite complex, requiring a certain level of technical expertise. This complexity can pose a challenge for businesses without a dedicated IT department or those with limited technical resources.
Additionally, although CrowdStrike is a cloud-based platform, it does require a small agent to be installed on all protected devices. This process can be time-consuming and cumbersome, especially for larger organizations with numerous endpoints.
False Positives
False positives are another issue with CrowdStrike. The platform sometimes flags benign activities as malicious, leading to unnecessary alerts and causing potential disruptions.
For businesses, these false positives can be more than just a minor annoyance. They can lead to wasted time and resources, as teams scramble to address threats that don't actually exist. Furthermore, a high number of false positives can cause alert fatigue, potentially leading to real threats being overlooked.
Limited Support for Legacy Systems
CrowdStrike has limited support for legacy systems. In other words, CrowdStrike's technology doesn't always play well with older systems that some businesses may still be using.
This lack of compatibility can be a significant drawback for organizations that rely on legacy systems for critical operations. These companies might find that CrowdStrike's platform is not compatible with their existing infrastructure.
Related content: Read our guide to endpoint security management
CrowdStrike Competitors and Alternatives
Cynet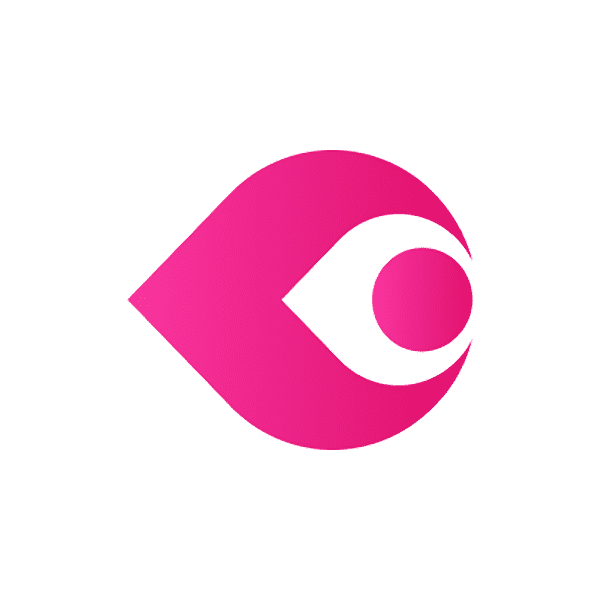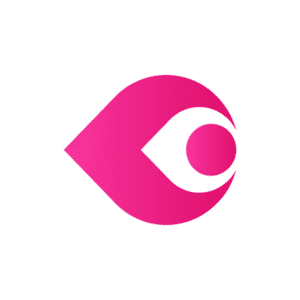 Cynet 360 is a holistic security solution that protects against threats to endpoint security and across your network. Cynet provides tools you can use to centrally manage endpoint security across the enterprise. With Cynet, you can proactively monitor entire internal environments, including endpoints, network, files, and hosts. This can help you reduce attack surfaces and the likelihood of multiple attacks.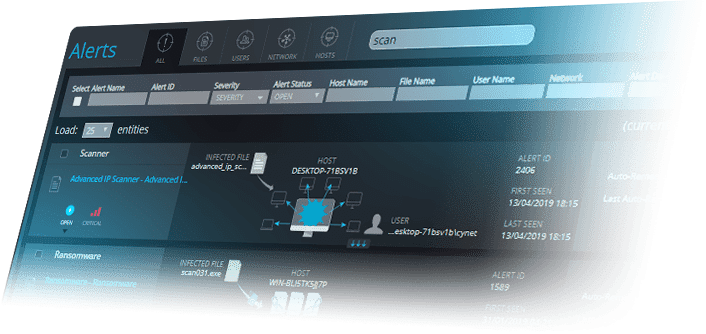 Cynet 360 provides the following edge EDR capabilities:
Advanced endpoint threat detection

—full visibility and predicts how an attacker might operate, based on continuous monitoring of endpoints and behavioral analysis.

Investigation and validation

—search and review historic or current incident data on endpoints, investigate threats, and validate alerts. This allows you to confirm the threat before responding to it, reducing dwell-time and performing faster remediation.

Rapid deployment and response

—deploy across thousands of endpoints within two hours. You can then use it to perform automatic or manual remediation of threats on the endpoints, disrupt malicious activity and minimize damage caused by attacks.
In addition, Cynet 360 provides the following endpoint protection capabilities:
NGAV

—providing automated prevention and termination of malware, exploits, Macros, LOLBins, and malicious scripts with machine learning based analysis.

User Behavioral Analytics (UBA)

—detecting and preventing attacks using compromised credentials through the use of behavioral baselines and signatures.

Deception technology

—planting fake credentials, files and connections to lure and trap attackers, mitigating damage and providing the opportunity to learn from attacker activity.

Monitoring and control

—providing asset management, vulnerability assessments and application control with continuous monitoring and log collection.

Response orchestration

—providing manual and automated remediation for files, users, hosts and networks customized with user-created scripts.
SentinelOne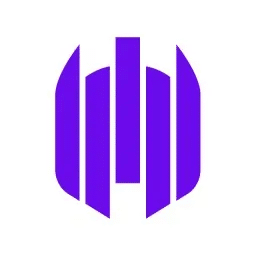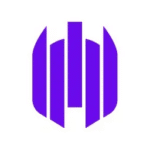 SentinelOne is a cybersecurity vendor that primarily focuses on endpoint protection. SentinelOne's platform uses artificial intelligence and machine learning to detect and respond to threats, allowing it to identify threats that traditional antivirus solutions might miss.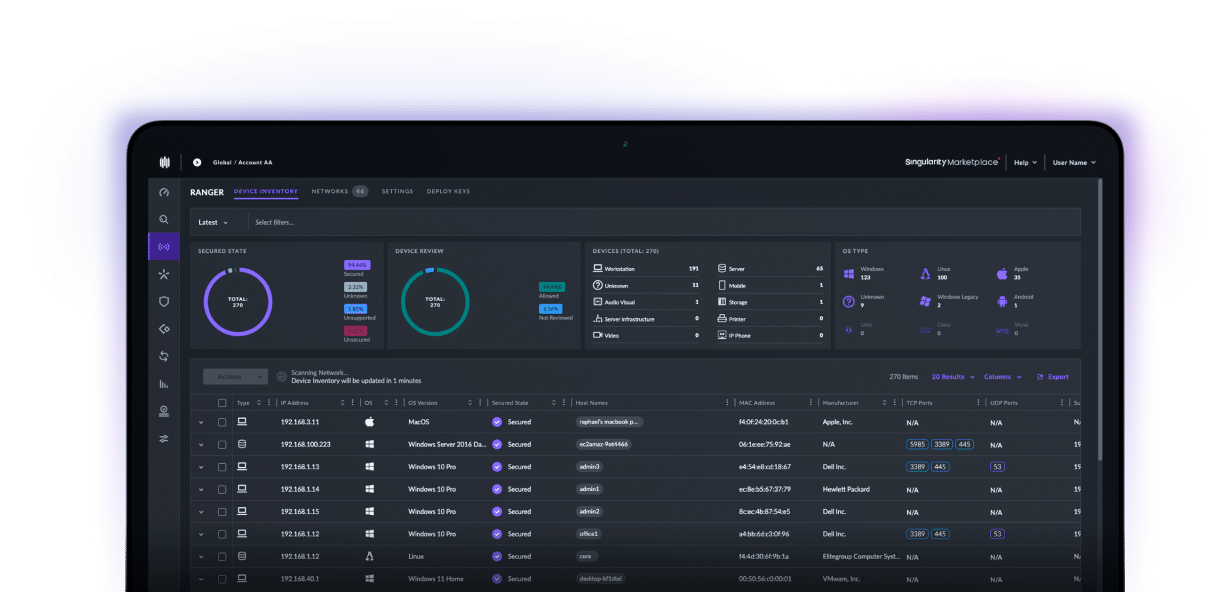 Source: SentinelOne
SentinelOne also provides automated response capabilities. It can quickly neutralize threats, minimizing the potential damage. This automation also reduces the workload on IT teams.
SentinelOne provides a deep visibility feature, which provides a detailed view of the threats an organization faces, allowing teams to make informed decisions about their security strategy. This level of insight can be particularly useful in identifying emerging threats and planning proactive measures to counter them.
Learn more in our detailed guide to SentinelOne vs CrowdStrike (coming soon)
Symantec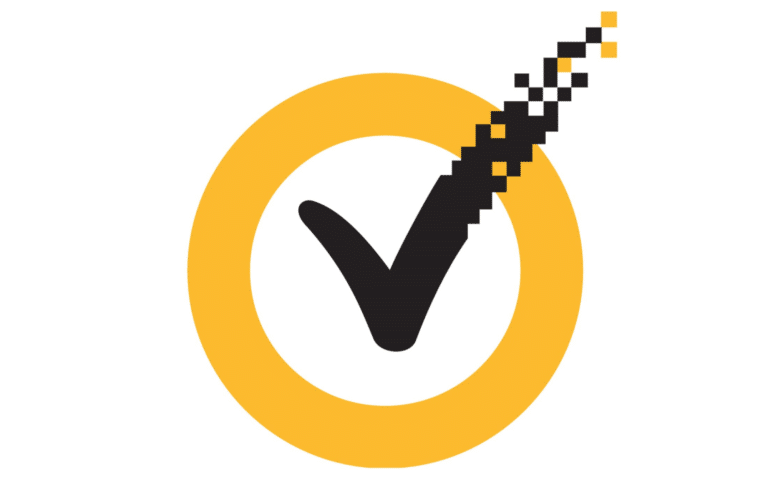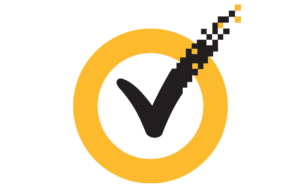 Symantec, now a division of Broadcom, offers a range of cybersecurity solutions, including endpoint protection, cloud security, and threat intelligence.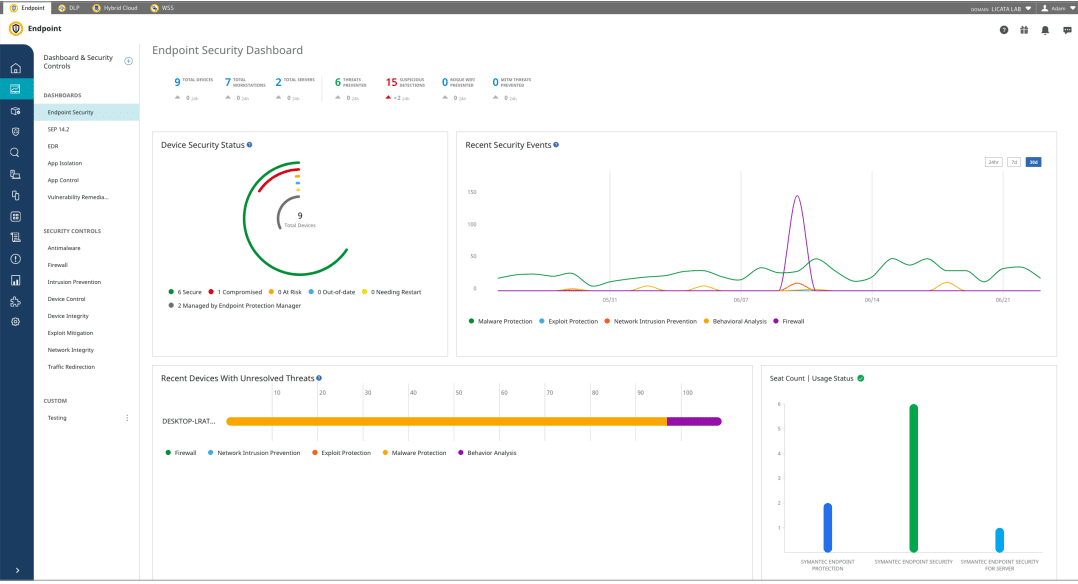 Source: Broadcom
One of Symantec's strengths is its threat intelligence network. With its global reach, Symantec can gather and analyze threat data from various sources, providing businesses with insights into the threat landscape. This intelligence can be used to inform security strategies and counter emerging threats.
Symantec's endpoint protection solution takes a multi-layered approach, protecting against threats including malware, ransomware, and zero-day attacks. With its integrated threat response feature, Symantec can automatically respond to threats.
Palo Alto Networks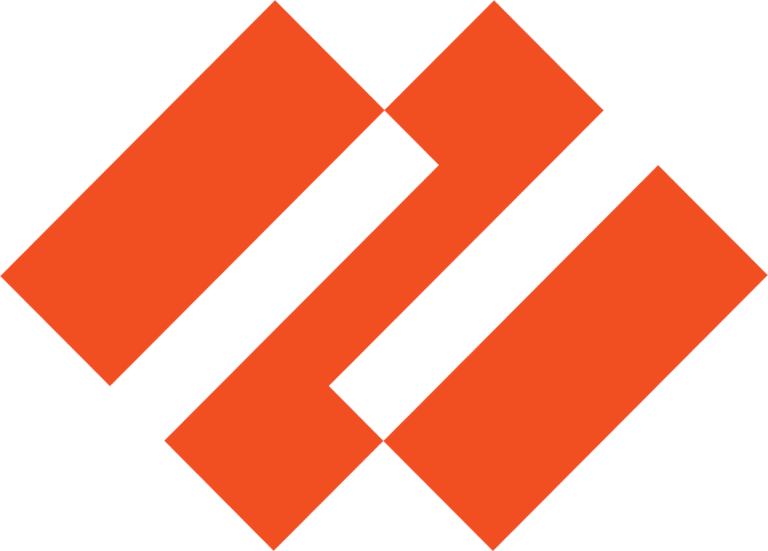 Palo Alto Networks offers a range of cybersecurity solutions. Known for its next-generation firewalls (NGFW), Palo Alto Networks solutions cover network security, cloud security, and endpoint protection.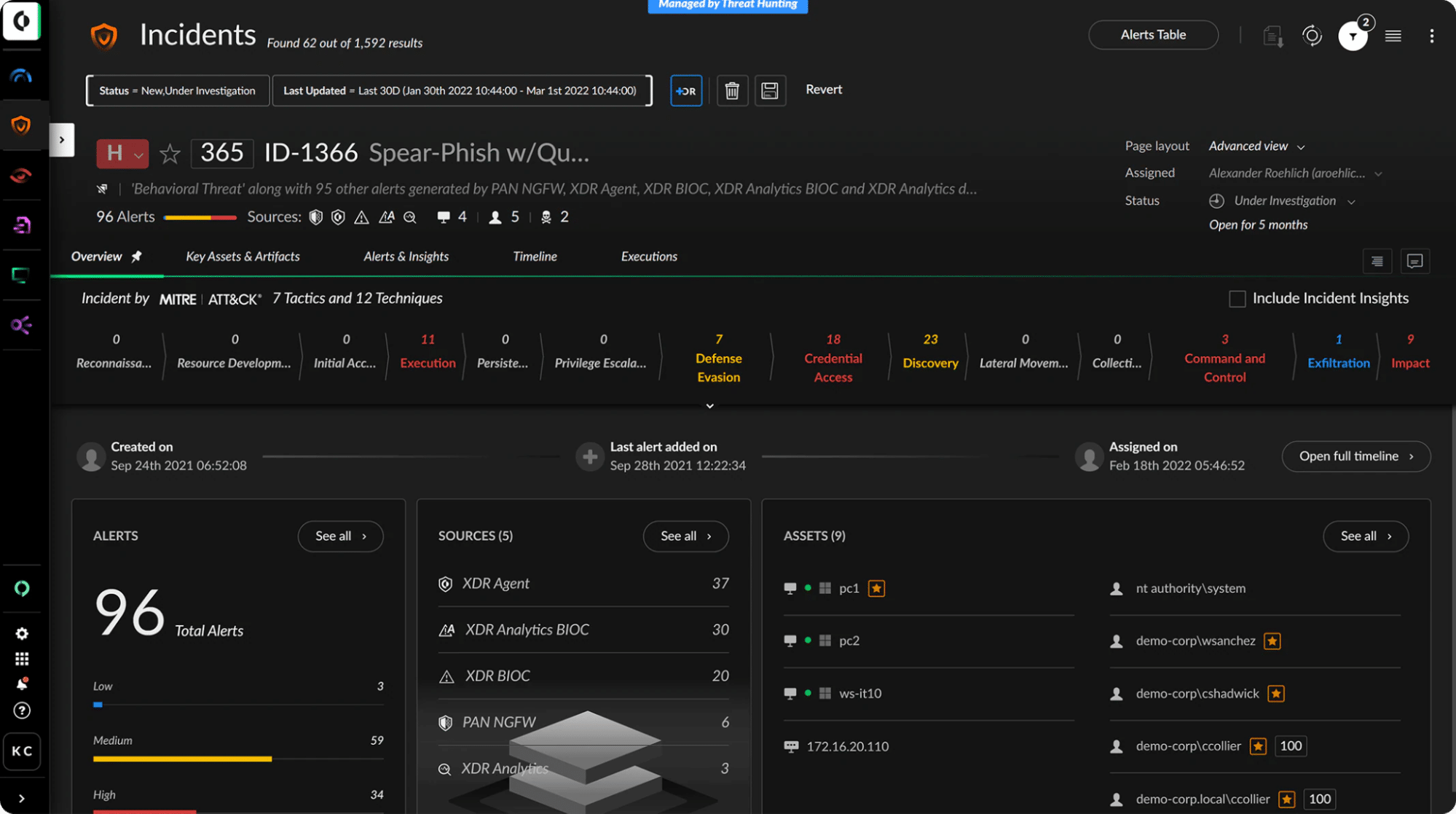 Source: Palo Alto Networks
A key features of Palo Alto solutions is threat prevention. With its cloud-based threat intelligence, Palo Alto Networks can identify and block known and unknown threats. Palo Alto solutions also provide automated response capabilities.
Palo Alto Networks' platform also offers advanced threat detection. By analyzing network traffic and behavior patterns, Palo Alto Networks can identify unusual activities that may indicate a threat. This proactive approach can address potential threats before they can cause significant damage.
Carbon Black


Now a part of VMware, Carbon Black offers a cloud-native security platform, with a special focus on endpoint protection.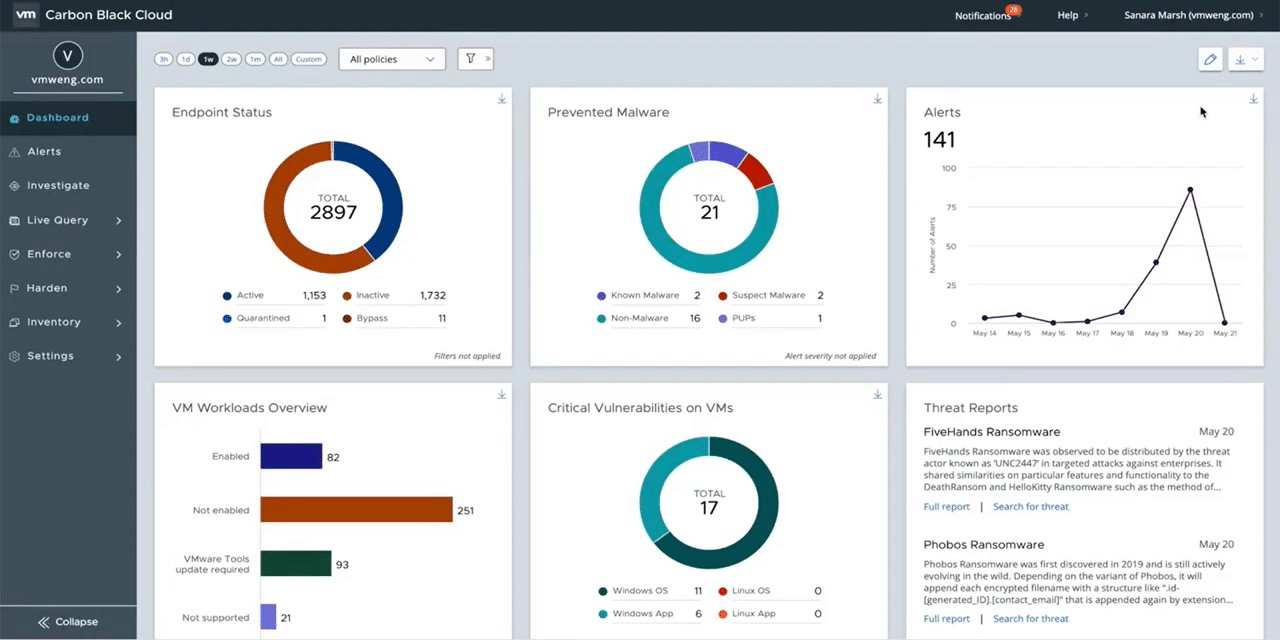 Source: VMware
One of Carbon Black's key strengths is its predictive security cloud. This cloud-based platform uses machine learning to predict and prevent advanced threats. With its continuous monitoring capabilities, Carbon Black can detect and respond to threats in real-time.
Carbon Black's platform also supports threat hunting. It provides analytics and threat intelligence capabilities that allows security professionals to proactively search for potential threats.
Cynet 360: Ultimate CrowdStrike Alternative
Cynet 360 is a security solution that includes a complete Endpoint Protection Platform (EPP), with built-in EDR security, a Next-Generation Antivirus (NGAV), and automated incident response. Cynet makes it easier to adopt a modern security toolset by offering an "all in one" security model: Cynet 360 goes beyond endpoint protection, offering network analytics, UEBA and deception technology. 
Cynet's platform includes:
NGAV

—blocks malware, exploits, LOLBins, Macros, malicious scripts, and other known and unknown malicious payloads.

Zero-day protection

—uses User and Entity Behavior Analytics (UEBA) to detect suspicious activity and block unknown threats.

Monitoring and control

—asset management, endpoint vulnerability assessments and application control, with auditing, logging and monitoring.

Response orchestration

—automated playbooks and remote manual action for remediating endpoints, networks and user accounts affected by an attack.

Deception technology

—lures attackers to a supposedly vulnerable honeypot, mitigating damage and gathering useful intelligence about attack techniques.

Network analytics—

identifying lateral movement, suspicious connections and unusual logins.
Learn more about the Cynet 360 security platform.