What Is Bitdefender? 
Bitdefender, established in 2001, is a cybersecurity software provider specializing in antivirus and endpoint security solutions. Bitdefender protects against malware, ransomware, phishing, and various online threats. Utilizing a multi-layered security strategy, Bitdefender uses artificial intelligence and machine learning to constantly enhance its defenses.
What Is Kaspersky? 
Kaspersky is a cybersecurity and antivirus software company founded in 1997 by Eugene Kaspersky. Headquartered in Moscow, Russia, Kaspersky provides security solutions that include antivirus software, endpoint protection, internet security, and password management tools. 
Kaspersky's advanced threat detection and prevention capabilities safeguard users from malware, ransomware, phishing, and other online threats. They combine signature-based detection, heuristic analysis, and behavioral monitoring. 
Important note: In 2022, the US government warned against relying on Kaspersky due to its association with the Russian Federation.
This is part of a series of articles about endpoint security.
Bitdefender vs. Kaspersky: 5 Key Differences
1. Malware Protection
Bitdefender provides a malware detection technology called Bitdefender Shield, which combines signature-based detection, heuristic analysis, and behavioral monitoring to identify and block known and emerging threats. It also employs artificial intelligence and machine learning algorithms to improve threat detection.
Kaspersky provides the System Watcher component, which monitors system activities and uses different databases and algorithms to detect and block suspicious actions. This approach allows Kaspersky to protect against zero-day threats and ransomware effectively. 
Both Bitdefender and Kaspersky offer robust malware protection, but their methods differ. Bitdefender relies on a combination of signature-based detection, heuristic analysis, and behavioral monitoring, while Kaspersky emphasizes behavior-based analysis and cloud-assisted security.
2. Scanning
Bitdefender and Kaspersky both provide a variety of scanning options to suit different user needs. These include quick scans, full system scans, and customizable scans targeting specific files or folders. Both solutions also offer boot-time scans and scheduled scanning capabilities.
Bitdefender features a vulnerability assessment scan, which checks for weak passwords, outdated software, missing Windows security patches, and potential network security issues. This scan helps users identify and fix vulnerabilities in their systems.
Kaspersky's scanning options include a vulnerability scan as well. In addition to detecting software vulnerabilities and missing patches, Kaspersky checks for weak system settings and offers recommendations to enhance overall security.
3. Firewall Functionality
Both Bitdefender and Kaspersky include built-in firewalls in their security suites, which monitor network traffic and block unauthorized connections.
Kaspersky's firewall offers a high level of customization and supports different network profiles, allowing users to apply specific rules for different types of networks, such as public Wi-Fi, home, or work networks. This feature ensures users are secure when switching between network environments.
Bitdefender's firewall also protects against network intrusions and hacking attempts but offers less customization compared to Kaspersky. While it automatically adjusts settings based on the network's trust level, it provides fewer options for users to fine-tune their network profiles and firewall rules.
4. Feature Set
Bitdefender offers a more extensive feature set compared to Kaspersky, providing additional tools and functionalities to enhance users' overall security and privacy.
Some of the key features in Bitdefender's security solutions include:
Advanced Threat Defense:

This feature monitors processes in real-time, analyzing their behavior to detect and block any suspicious activity that could indicate a malware attack.

Bitdefender Security Cloud:

A cloud-based infrastructure that analyzes data from millions of devices worldwide to provide real-time threat intelligence.

Multi-layer ransomware protection:

Includes a data-protection layer that safeguards specific file types from unauthorized changes, providing a more comprehensive defense against ransomware attacks.
Kaspersky also offers a robust set of features, including:
Privacy protection:

Kaspersky offers tools to safeguard users' privacy, including webcam protection and a Private Browsing mode.

Application control:

Allows users to control which applications can run on their systems, minimizing the risk of unauthorized or potentially harmful software being executed.

Safe Money:

This secure browser feature protects users during sensitive online transactions, such as online banking or shopping.
5. Pricing
Both Bitdefender and Kaspersky offer free versions of their antivirus software, which provide basic protection against malware and other online threats. However, to access more advanced features, users can opt for one of the paid subscription plans. Below is a comparison of pricing for the four levels of protection:
| | | |
| --- | --- | --- |
| Level of Protection | Bitdefender | Kaspersky |
| Free | Bitdefender Antivirus Free Edition | Kaspersky Security Cloud Free |
| Basic | Bitdefender Antivirus Plus: $23.99/year | Kaspersky Anti-Virus: $29.99/year |
| Advanced | Bitdefender Internet Security: $32.99/year | Kaspersky Internet Security: $29.99/year |
| Highest | Bitdefender Total Security: $35.99/year | Kaspersky Total Security: $30.99/year |
Note: The prices mentioned are based on promotional offers and may vary.
In terms of pricing, Bitdefender and Kaspersky offer similar pricing structures for their Antivirus Plus and Internet Security plans. However, Bitdefender's Total Security plan is slightly more affordable than Kaspersky's Total Security plan. Both companies' pricing plans provide users with a range of options to suit their specific needs and budgets, making it essential for users to evaluate the features and level of protection offered by each plan before making a decision.
Bitdefender vs. Kaspersky: How to Choose
In conclusion, both Bitdefender and Kaspersky provide strong security solutions to protect users from online threats. Bitdefender outperforms Kaspersky in most aspects, including a more extensive feature set, multi-layer ransomware protection, and slightly more affordable pricing for its Total Security plan.
Perhaps most importantly, users should be aware of concerns in the Western world about potential risks related to Kaspersky's association with the Russian Federation. 
Users should carefully consider their specific security needs and preferences when choosing between these two reputable antivirus providers. However, given Bitdefender's overall advantages, it stands as a strong choice for comprehensive and reliable protection against cyber threats.
Learn more in our detailed guide to Bitdefender security (coming soon)
Endpoint Security Management with Cynet
Cynet 360 is a holistic security solution that protects against threats to endpoint security and across your network. Cynet provides tools you can use to centrally manage endpoint security across the enterprise.
Cynet's intelligent technologies can help you detect attacks by correlating information from endpoints, network analytics and behavioral analytics with almost no false positives. 
With Cynet, you can proactively monitor entire internal environments, including endpoints, network, files, and hosts. This can help you reduce attack surfaces and the likelihood of multiple attacks.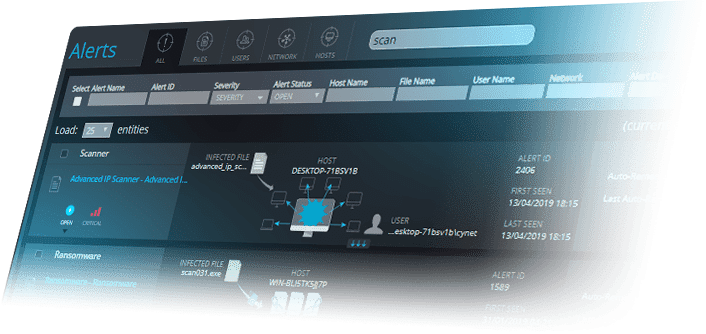 Cynet 360 provides cutting edge EDR capabilities:
Advanced endpoint threat detection

—full visibility and predicts how an attacker might operate, based on continuous monitoring of endpoints and behavioral analysis.

Investigation and validation

—search and review historic or current incident data on endpoints, investigate threats, and validate alerts. This allows you to confirm the threat before responding to it, reducing dwell-time and performing faster remediation.

Rapid deployment and response

—deploy across thousands of endpoints within two hours. You can then use it to perform automatic or manual remediation of threats on the endpoints, disrupt malicious activity and minimize damage caused by attacks.
Learn more about our EDR security capabilities.
In addition, Cynet 360 provides the following endpoint protection capabilities:
Learn more about the Cynet 360 security platform.