What Is Trend Micro? 
Trend Micro is a multinational cybersecurity and defense company that specializes in developing software and services for protecting computer systems, networks, and data. Founded in 1988, the company offers a range of products including antivirus software, endpoint security, cloud security, and network defense solutions for consumers, businesses, and organizations. 
Trend Micro's solutions focus on protecting users from malware, ransomware, phishing, and other cyber threats by using advanced techniques like machine learning and artificial intelligence (AI).
This is part of a series of articles about endpoint security
Trend Micro Security Products and Solutions
Trend Micro Antivirus
Trend Micro Antivirus is a user-friendly security solution designed to safeguard personal computers, smartphones, and tablets from various cyber threats. It delivers multi-layered protection against viruses, malware, ransomware, phishing attacks, and more.
Here are key features of Trend Micro Antivirus:
Real-time threat detection and protection:

This antivirus software continuously scans your devices to identify and block potential threats before they can cause harm, providing real-time protection.

Advanced AI and machine learning technologies:

Trend Micro Antivirus leverages AI and machine learning to detect and neutralize new and emerging threats, offering defense against zero-day attacks.

Web and email protection:

The software scans emails for malicious attachments and URLs and provides web protection by blocking access to malicious websites, helping users avoid phishing scams and malware infections.

Privacy protection:

Trend Micro Antivirus helps secure sensitive personal data by preventing unauthorized access and data breaches, safeguarding users' privacy.
Trend Vision One
Trend Micro Vision One is an extended detection and response (XDR) platform that offers a unified approach to threat detection, investigation, and response across endpoints, networks, servers, and cloud environments.
Here are key features of Trend Vision One:
Centralized visibility and control:

Vision One brings together security data from across the IT environment, providing security teams with a unified view and allowing them to manage threats more effectively.

AI-driven analytics:

The platform employs AI and advanced analytics to identify and prioritize potential threats, enabling faster response and minimizing the potential impact of security incidents.

Streamlined workflows:

Vision One simplifies the incident investigation and remediation process by providing security teams with the tools and information they need to resolve security issues.

Integration with third-party security tools:

The platform can integrate with other security solutions already deployed at the organization.
Customizable dashboards: Users can tailor the platform's dashboards to display the most relevant security information.
Trend Cloud One
Trend Cloud One is a cloud security platform designed to protect applications, data, and workloads across multi-cloud environments, such as Amazon Web Services (AWS), Microsoft Azure, and Google Cloud. It offers a suite of security tools that address various aspects of cloud security, including application, infrastructure, data, and container security.
Here are key features of Trend Cloud One:
Cloud-native security:

Cloud One is built to integrate with cloud infrastructure, providing consistent security across different cloud environments and services.

Compliance and data protection:

The platform includes tools to help organizations meet compliance requirements and protect sensitive data from unauthorized access or leakage.

Container and Kubernetes security:

Cloud One offers security capabilities tailored for containerized applications and Kubernetes environments, ensuring that modern application development practices are secure.

Centralized visibility and management:

The platform provides a single management console for security teams to monitor and manage security across multiple cloud providers, simplifying the process of securing multi-cloud environments.
Automated security and threat response: Trend Micro Cloud One incorporates automation to streamline security operations, reducing the time required to respond to threats and maintain a secure cloud environment.
Trend Micro Network One
Trend Micro provides a network defense solution that safeguards enterprise networks from advanced threats by providing intrusion prevention, breach detection, and security analytics.
Here are the main features:
Deep packet inspection:

Network One uses deep packet inspection (DPI) to analyze network traffic at a granular level, identifying potential threats and malicious activities based on the content and behavior of network packets.

High-performance intrusion prevention system (IPS):

The solution includes a high-performance IPS that can identify and block network intrusions in real-time, preventing attackers from gaining unauthorized access or compromising network assets.

Advanced threat intelligence:

Network One leverages threat intelligence from Trend Micro and other sources to detect known and emerging threats, enabling proactive defense against a wide range of cyberattacks.

Network analytics:

The platform provides security teams with network analytics capabilities, allowing them to quickly identify and respond to potential threats and minimize the risk of breaches.
Seamless integration: Network One is designed to integrate with existing network infrastructure, ensuring minimal disruption to network operations.
Trend Micro Endpoint Suites
Trend Micro offers a variety of endpoint protection solutions designed to secure devices, applications, and users against various cyber threats. These solutions are tailored to meet the needs of different organization sizes, from small businesses to large enterprises. Some of Trend Micro's endpoint protection offerings include:
Apex One:

This is an endpoint security solution that provides automated detection and response, actionable threat insights, and advanced threat protection. It utilizes a blend of cross-generational threat defense techniques, such as machine learning, behavioral analysis, and real-time threat intelligence, to protect against known and unknown malware, ransomware, and targeted attacks.

Endpoint Encryption:

Trend Micro's Endpoint Encryption solution helps organizations protect sensitive data by encrypting it at rest on devices, including laptops, desktops, and removable media. It also provides centralized policy management and enforcement for improved compliance with data protection regulations.

Vulnerability Protection:

This solution offers virtual patching to shield vulnerable software from exploitation by cyber threats, reducing the risk of attacks and the need for emergency patching. It utilizes intrusion prevention techniques to detect and block exploit attempts.

Mobile Security:

Trend Micro provides a mobile security solution that protects iOS and Android devices against malware, data loss, and unauthorized access. It includes features like mobile device management, mobile application management, and mobile content management.
These solutions can be deployed individually or as part of an integrated security suite, depending on the organization's specific needs and requirements. Trend Micro's endpoint protection solutions provide centralized management, and keeps up to date with the latest threat landscape.
Learn more in our detailed guide to Trend Micro endpoint security
Trend Micro Service One
Trend Micro offers a managed security service that provides organizations with expert assistance in managing their cybersecurity posture, including threat monitoring, and incident response.
Here are the main features of Trend Micro's MDR service:
24/7 security monitoring and threat detection:

Trend Micro offers round-the-clock monitoring of an organization's security environment, detecting and analyzing potential threats in real-time.

Incident response and remediation support:

In the event of a security incident, the MDR team provides assistance in responding to and remediating threats, helping organizations minimize the impact of cyberattacks.
Regular security assessments and recommendations: The service includes regular assessments of an organization's security posture, identifying vulnerabilities and providing recommendations to improve overall security.
Trend Micro Security: Advantages and Limitations
Here are some of the advantages of Trend Micro solutions:
Comprehensive protection

: Trend Micro Security offers robust protection against various types of threats, including viruses, malware, ransomware, and phishing attacks. Its advanced AI learning capabilities allow it to identify and block even zero-day threats effectively.

Multi-device support

: Trend Micro solutions cover a wide range of devices, from computers and laptops to mobile devices, providing security across platforms.

Email and web threat protection

: Trend Micro includes protection mechanisms against email and web threats, ensuring safer browsing and email usage.

Privacy and identity safeguards

: It offers several privacy features like Pay Guard for secure online transactions and identity theft protection to safeguard sensitive personal information.

User-friendly

: The software's user interface is intuitive and easy to navigate, which makes it a good option even for non-tech savvy users.

Parental controls

: The added feature of parental controls helps parents monitor and manage their children's internet usage, providing an additional layer of safety.
Here some notable limitations of Trend Micro solutions:
System performance

: Some users have reported that Trend Micro Security impacts system performance, particularly during full system scans, which leads to slower system speeds.

False positives

: There are instances when the software identifies safe files as potential threats (false positives), which causes unnecessary alarm or inconvenience to the user.

Compatibility

: There are compatibility issues reported with certain other software, which necessitate adjusting settings or resolving conflicts.
Cost: Compared to some other antivirus and cybersecurity solutions, Trend Micro Security is pricier, particularly the premium versions of the software.
Endpoint Security Management with Cynet
Cynet 360 is a holistic security solution that protects against threats to endpoint security and across your network. Cynet provides tools you can use to centrally manage endpoint security across the enterprise.
Cynet's intelligent technologies can help you detect attacks by correlating information from endpoints, network analytics and behavioral analytics with almost no false positives. 
With Cynet, you can proactively monitor entire internal environments, including endpoints, network, files, and hosts. This can help you reduce attack surfaces and the likelihood of multiple attacks.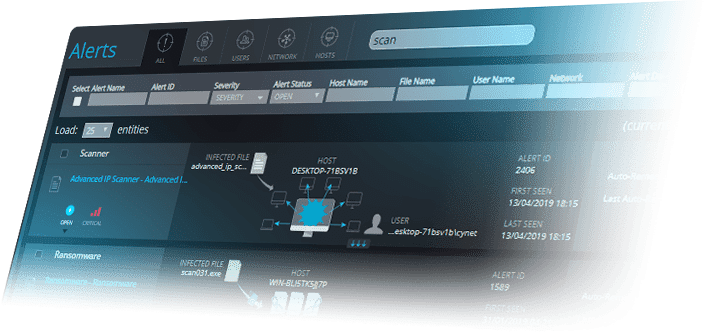 Cynet 360 provides cutting edge EDR capabilities:
Advanced endpoint threat detection

—full visibility and predicts how an attacker might operate, based on continuous monitoring of endpoints and behavioral analysis.

Investigation and validation

—search and review historic or current incident data on endpoints, investigate threats, and validate alerts. This allows you to confirm the threat before responding to it, reducing dwell-time and performing faster remediation.

Rapid deployment and response

—deploy across thousands of endpoints within two hours. You can then use it to perform automatic or manual remediation of threats on the endpoints, disrupt malicious activity and minimize damage caused by attacks.
Learn more about our EDR security capabilities.
In addition, Cynet 360 provides the following endpoint protection capabilities:
Learn more about the Cynet 360 security platform.