What Is Sophos? 
Sophos is a global cybersecurity company that provides security solutions for small businesses and larger organizations. Founded in 1985, it offers a range of products, including endpoint protection, firewalls, encryption, and mobile security. 
Sophos' solutions use advanced technologies including artificial intelligence algorithms to detect and prevent threats, protecting against malware, ransomware, and other cyber attacks.
What Is Fortinet?
Fortinet is a leading cybersecurity company, founded in 2000, that specializes in network security and protection solutions. Its flagship product, the FortiGate firewall, is a high-performance network security appliance that offers comprehensive protection against cyber threats. 
Fortinet provides a range of products, including firewalls, antivirus, intrusion prevention systems, and secure access solutions. Through its Security Fabric architecture, Fortinet delivers an integrated and automated approach to network security.
This is part of a series of articles about endpoint security.
Endpoint Security: Sophos Intercept X vs. FortiEDR
Sophos Intercept X and Fortinet FortiEDR are both advanced endpoint security solutions designed to protect against a variety of threats, including malware, ransomware, and targeted attacks. 
Here is a comparison between Sophos Intercept X and Fortinet FortiEDR to help you decide which product might be more suitable for your organization:
| | | |
| --- | --- | --- |
| | Sophos Intercept X | Fortinet FortiEDR |
| Features and Functionality | Offers deep learning malware detection, anti-ransomware, exploit prevention, and Endpoint Detection and Response (EDR), and managed threat hunting services through Sophos MTR (Managed Threat Response) | Provides advanced threat protection, endpoint vulnerability assessment, and automated response actions, continuous monitoring, detailed forensics, and real-time incident response capabilities |
| Ease of Use and Management | User-friendly and easy to deploy with a guided investigation feature in the EDR component | Customizable interface, may have a steeper learning curve compared to Intercept X |
| Integration with Other Products | Tightly integrated with other Sophos products, such as the XG Firewall | Part of the Fortinet Security Fabric, which offers a unified security architecture across multiple products, including FortiGate firewalls, FortiWeb web application firewalls, and FortiSandbox |
How to Choose
Ultimately, the choice between Sophos Intercept X and Fortinet FortiEDR will depend on your organization's specific needs, IT resources, and budget. If ease of use and management are important factors for your organization, Sophos Intercept X might be a better fit. On the other hand, if you require more advanced features and scalability, Fortinet FortiEDR could be a more suitable option. It is recommended to evaluate product demos, customer reviews, and third-party test results to make a more informed decision.
Learn more in our detailed guide to Sophos endpoint protection 
Firewalls: Sophos XGS vs. Fortinet FortiGate
Both companies offer advanced next-generation firewalls (NGFWs). The following table summarizes the key differences:
| | | |
| --- | --- | --- |
| | Sophos XGS | Fortinet FortiGate |
| Target Audience | Small and medium-sized businesses (SMBs) requiring easy to use security solution | Broad range of customers including SMBs, large enterprises, and service providers |
| Performance | Lower throughput and higher latency compared to Fortinet | Higher throughput and lower latency with custom-built Security Processing Units (SPUs) and parallel processing architecture |
| Security Features | Essential security features such as intrusion prevention systems (IPS), antivirus, application control, web filtering, and VPN capabilities | More extensive set of security features and integrations, including advanced threat protection (ATP), sandboxing, and support for third-party security services |
| Ease of Use | User-friendly interface and ease of management through the Sophos Central management platform | More complex feature set and management interface with a potentially steeper learning curve |
| Integration and Ecosystem | Integration between its products through the Sophos Central platform, but not as extensive as Fortinet's ecosystem | Security Fabric architecture allows for integration between its various security products and third-party solutions |
How to Choose
If you work for a small to medium-sized business looking for a user-friendly and straightforward security solution, Sophos XGS might be more suited to your needs, particularly if you have limited IT resources or expertise. Its interface is known to be user-friendly and easy to manage, and its integration with the Sophos Central management platform simplifies administration. 
However, if your organization is larger, requires more advanced features, or needs to handle larger volumes of network traffic, Fortinet FortiGate could be a more fitting choice. Its performance is typically higher, and it offers a broader set of security features and integrations. FortiGate also allows for integration between various security products and third-party solutions through its Security Fabric architecture.
Endpoint Security and VPN Protection with Cynet
Cynet 360 is a holistic security solution that protects against threats to endpoint security and across your network. Cynet provides all of the basics of perimeter security, including next-generation antivirus (NGAV), intrusion detection, and management of virtual private networks (VPNs). 
Cynet's intelligent technologies can help you detect attacks by correlating information from endpoints, network analytics and behavioral analytics with almost no false positives. 
With Cynet, you can proactively monitor entire internal environments, including endpoints, network, files, and hosts. This can help you reduce attack surfaces and the likelihood of multiple attacks.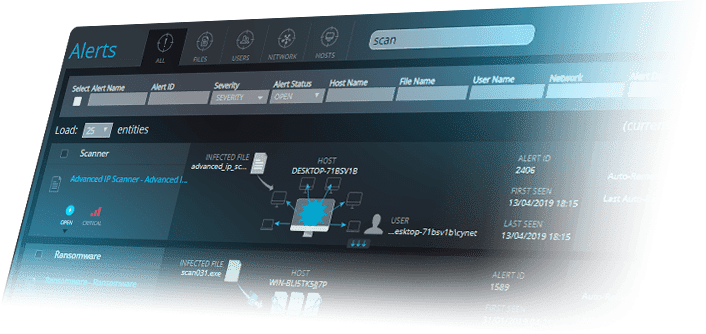 Cynet 360 provides cutting edge EDR capabilities:
Advanced endpoint threat detection

—full visibility and predicts how an attacker might operate, based on continuous monitoring of endpoints and behavioral analysis.

Investigation and validation

—search and review historic or current incident data on endpoints, investigate threats, and validate alerts. This allows you to confirm the threat before responding to it, reducing dwell-time and performing faster remediation.

Rapid deployment and response

—deploy across thousands of endpoints within two hours. You can then use it to perform automatic or manual remediation of threats on the endpoints, disrupt malicious activity and minimize damage caused by attacks.
Learn more about our EDR security capabilities.
In addition, Cynet 360 provides the following endpoint protection capabilities:
Learn more about the Cynet 360 security platform.