What Is Bitdefender? 
Bitdefender is a cybersecurity software company that develops antivirus and internet security solutions for consumers, businesses, and enterprises. Founded in 2001, the company offers solutions that protect computers, mobile devices, and networks from malware, phishing, ransomware, and other cyber threats. 
This is part of a series of articles about endpoint security.
Bitdefender Security Products and Solutions
Bitdefender Antivirus
This consumer-focused antivirus software provides protection against various cyber threats, including malware, ransomware, viruses, and phishing attempts. 
Source: Bitdefender
Some of its main features are:
Real-time threat detection and prevention:

Bitdefender Antivirus scans your system for potential threats and blocks them before they can cause harm.

Advanced ransomware protection:

The software includes a layer of protection against ransomware, preventing unauthorized encryption or modification of your files and data.

Safe browsing and anti-phishing:

Bitdefender Antivirus warns about potentially harmful websites and blocks phishing attempts.
Performance optimization: The software is designed to have a minimal impact on system performance.
GravityZone Security Platform
This platform offers an integrated security solution for businesses, designed to protect physical, virtual, and cloud environments. Key features include:
Multi-layered security:

The platform offers multiple security layers for workstations, servers, and mobile devices, ensuring protection against a wide range of cyber threats.

Centralized management console:

GravityZone features a centralized console for managing security across your organization, making it easy to configure policies, monitor threats, and respond to incidents.
GravityZone Cloud and Server Security
This security solution is tailored for cloud and server environments, providing protection for Windows, Linux, and other server types.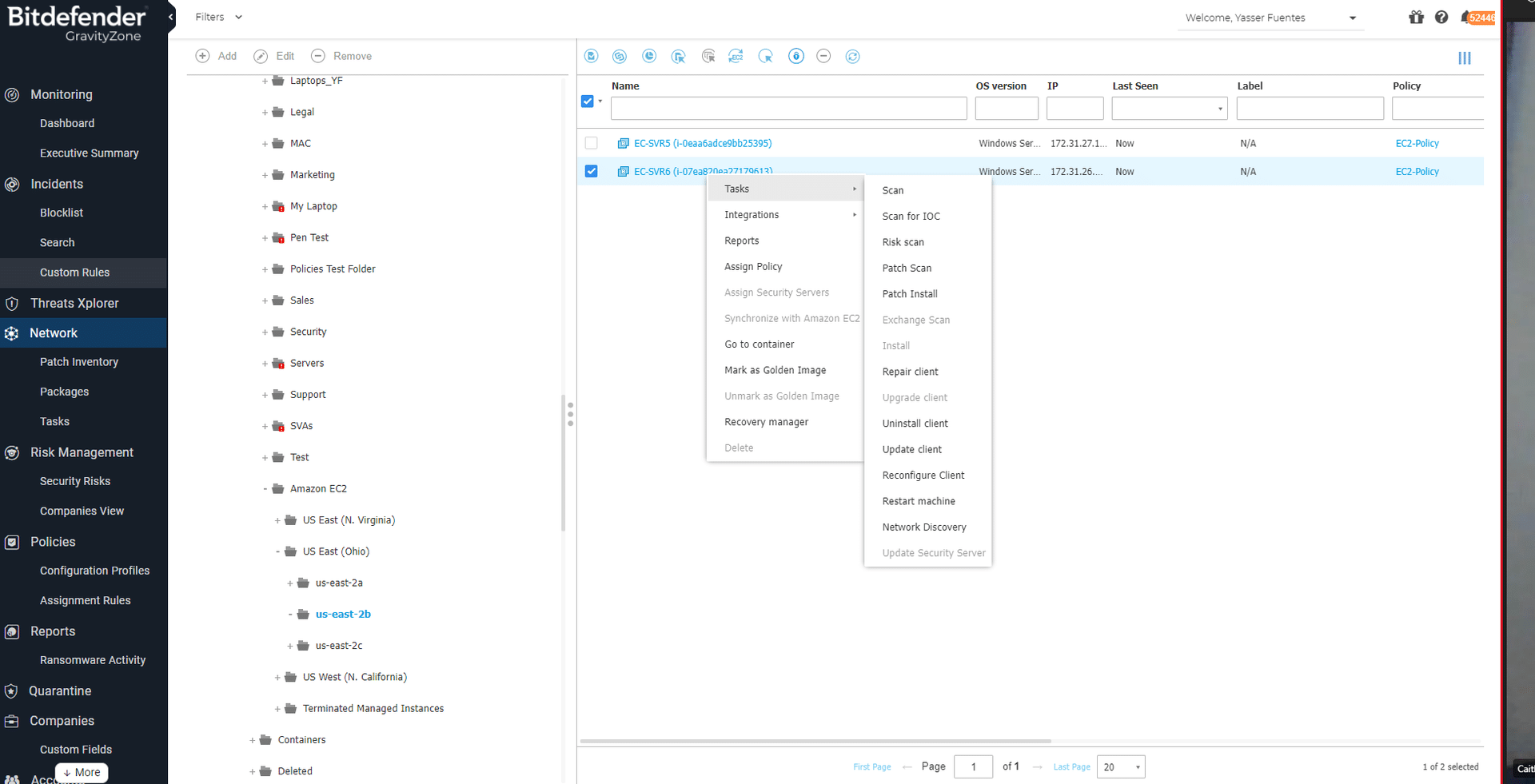 Source: Bitdefender
Its main features are:
Support for hybrid, private, and public cloud infrastructures:

GravityZone is designed to work with various cloud infrastructures, offering tailored security features for different deployment scenarios.

Virtualization-aware security:

The solution is built to be aware of virtualized environments and provides security features to protect virtual machines and their associated data.
GravityZone Integrity Monitoring
GravityZone Integrity Monitoring is designed to monitor and maintain the integrity of critical systems and applications, ensuring they remain secure and compliant. Some of its main features are:
Real-time file monitoring:

GravityZone Integrity Monitoring continuously scans file entries for changes, detecting unauthorized modifications that could indicate a security breach or compliance violation.

Configuration change detection:

The solution monitors critical system and application configurations, identifying and alerting administrators to unauthorized or potentially harmful changes.

Integration with security information and event management (SIEM) solutions:

GravityZone Integrity Monitoring can be integrated with various SIEM platforms, consolidating security information and events from multiple sources to provide a wide view of an organization's security posture.
GravityZone Security for Mobile Devices
This mobile device security solution offers protection for iOS and Android devices, securing sensitive data on smartphones and tablets. 
Source: Bitdefender
Key features include:
Mobile malware protection:

GravityZone Security for Mobile Devices offers protection against mobile-specific malware and other threats targeting smartphones and tablets.

Anti-phishing and safe browsing:

The solution includes features to protect users from phishing attempts and malicious websites, safeguarding sensitive information from being stolen.

Privacy and theft protection:

The solution offers features to protect users' privacy, as well as tools for locating lost or stolen devices and remotely wiping sensitive data.
GravityZone Security for Exchange Servers
This security solution is specifically designed to protect Microsoft Exchange servers from email-borne threats, ensuring the security and integrity of an organization's email communications. 
Some of its main features are:
Antispam and antimalware protection:

GravityZone Security for Exchange Servers offers protection against spam, malware, and other email-based threats, reducing the risk of malicious content infiltrating an organization's network.

Email content and attachment filtering:

The solution includes customizable content and attachment filtering capabilities, allowing organizations to enforce email policies and block the transmission of potentially harmful files or data.

Centralized management console:

GravityZone Security for Exchange Servers features a centralized management console for configuration, monitoring, and enforcement of email security policies across an organization.
Configurable policies and reports: The solution offers customizable policies and reporting capabilities, enabling organizations to tailor their email security to meet specific business needs and compliance requirements.
Bitdefender Endpoint Detection and Response (EDR)
Bitdefender EDR focuses on monitoring endpoints, detecting advanced threats, and responding to incidents to maintain the security of an organization's network.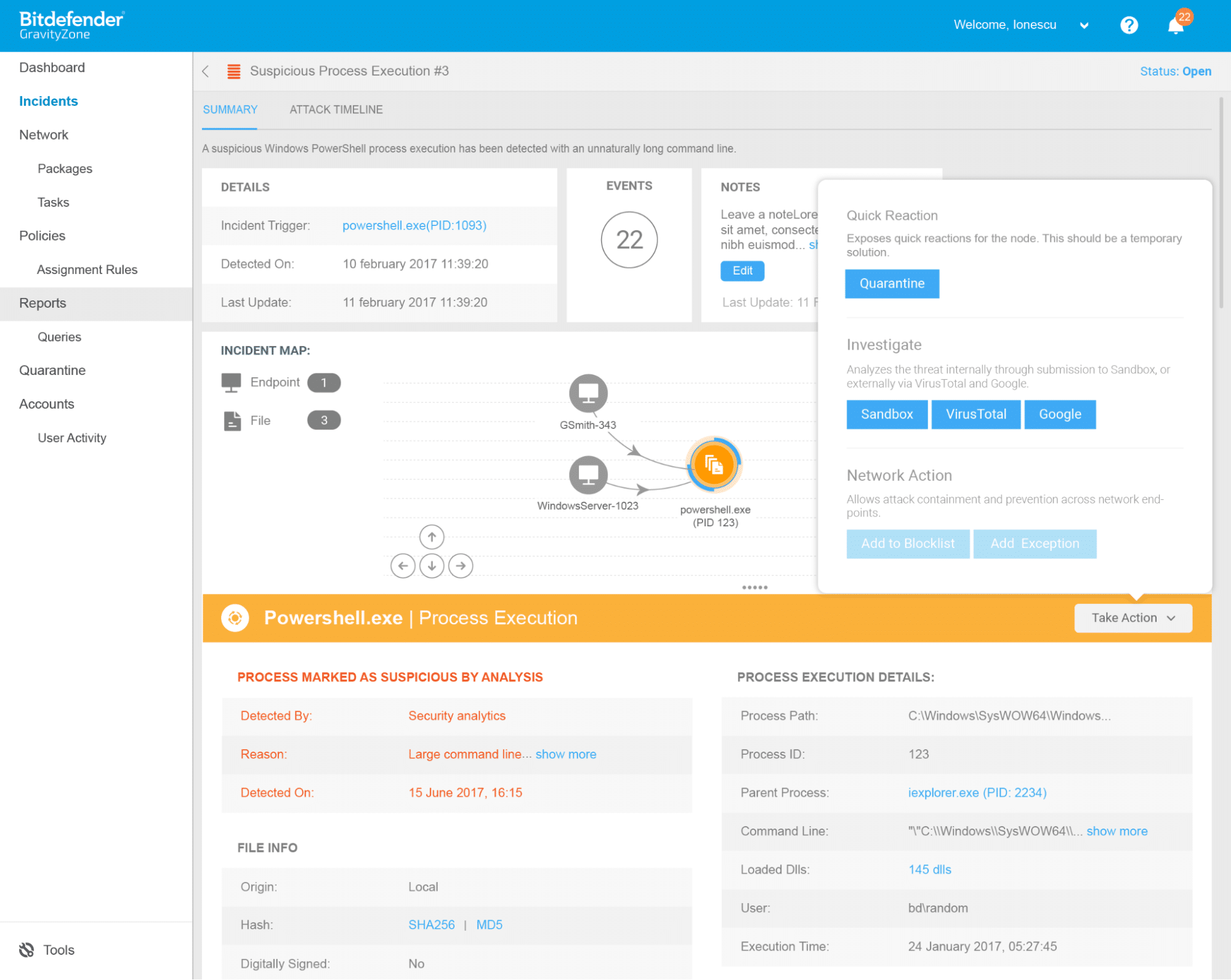 Source: Bitdefender
Some of its main features are:
Real-time endpoint monitoring:

Bitdefender EDR monitors endpoints, such as workstations and servers, for signs of malicious activity or potential threats.

Threat hunting and investigation:

The solution enables security teams to hunt for threats and investigate incidents, providing visibility into endpoint activity and potential vulnerabilities.

Automated response and remediation:

Bitdefender EDR offers automated response capabilities to contain and remediate threats, minimizing the potential impact on the organization.

Incident prioritization and reporting:

The solution helps security teams prioritize incidents based on risk and provides detailed reporting for decision-making and incident response.
GravityZone XDR
GravityZone XDR is an extended detection and response solution that integrates EDR, endpoint protection, and network analytics for a more comprehensive security approach.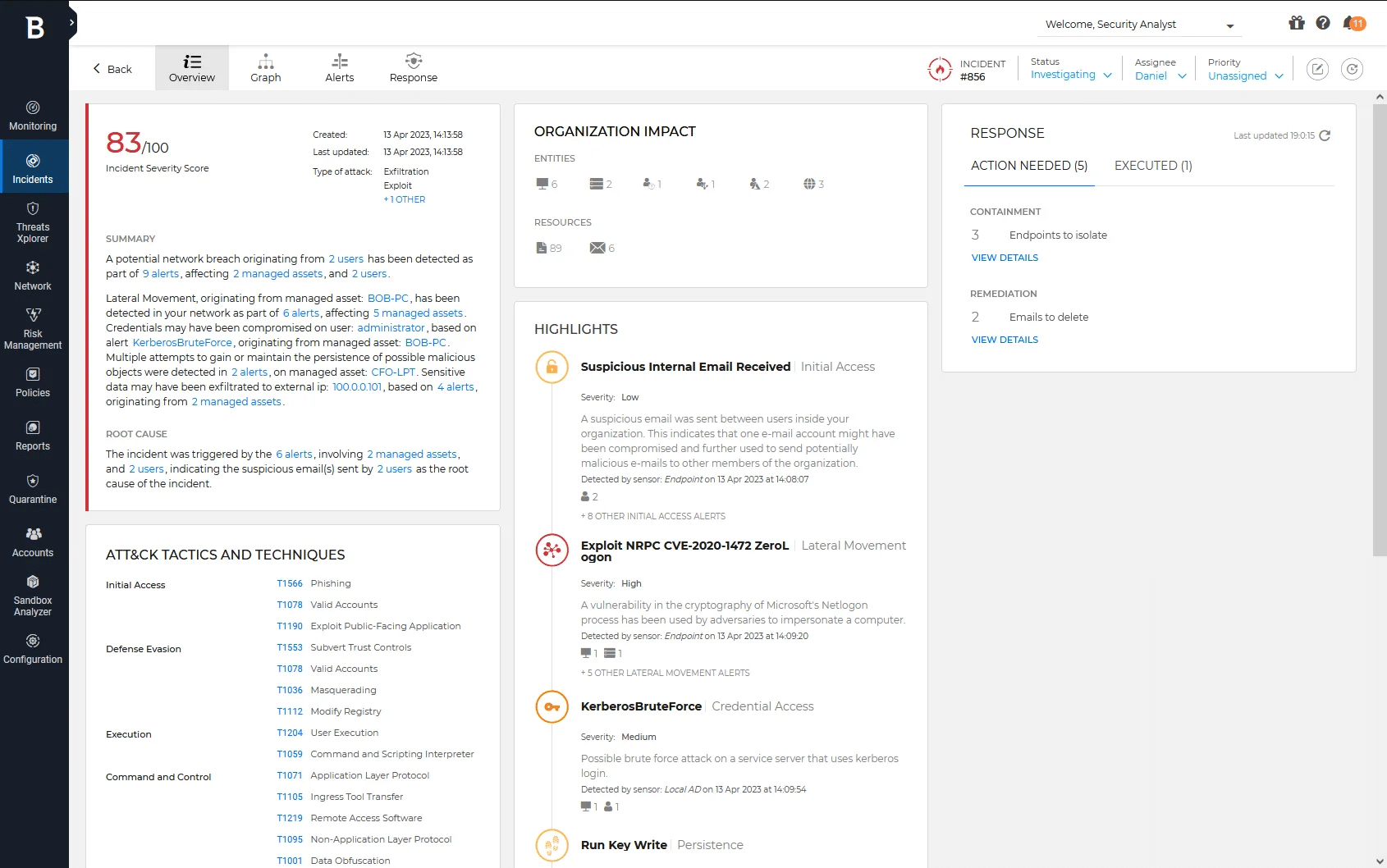 Source: Bitdefender
Key features include:
Advanced threat detection and prevention:

GravityZone XDR combines multiple security layers to detect and prevent a wide range of threats, providing a more robust defense against cyberattacks.

Centralized management and visibility:

GravityZone XDR offers a centralized management console, providing a single view of an organization's security posture and simplifying the administration of security policies and incident response.
Threat intelligence and reporting: The solution leverages threat intelligence data and offers detailed reporting capabilities to help security teams make decisions and improve their organization's overall security.
Bitdefender Managed Detection and Response (MDR)
Bitdefender MDR is a managed security service that provides continuous monitoring, detection, and response to advanced threats, helping organizations maintain a strong security posture.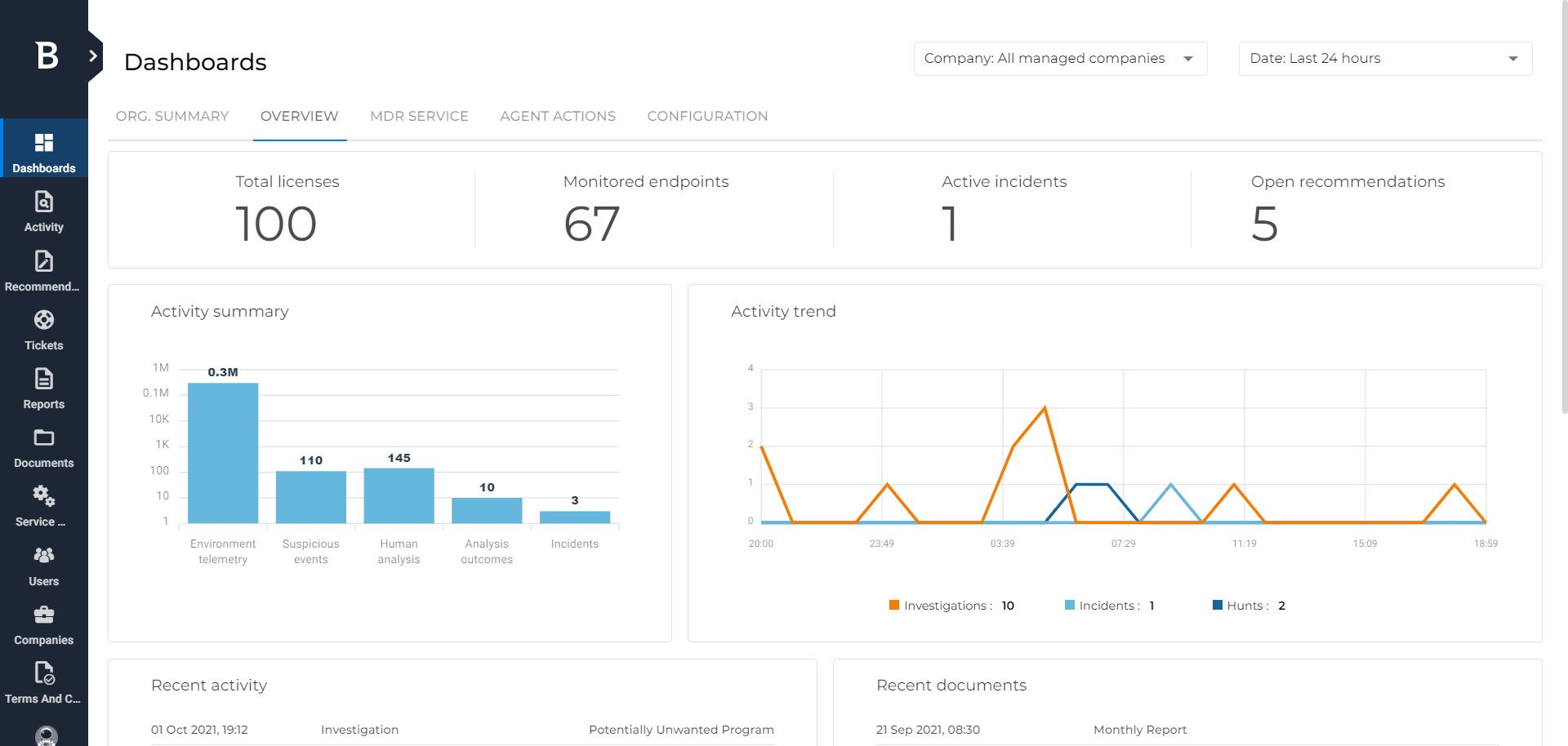 Source: Bitdefender
Main features include:
24/7 threat monitoring and analysis:

Bitdefender MDR offers round-the-clock monitoring of an organization's network, analyzing security data to detect potential threats and respond accordingly.

Incident response and remediation:

The MDR service includes a team of security experts who can assist in responding to and remediating security incidents, ensuring that organizations can recover from cyberattacks.

Proactive threat hunting:

Bitdefender MDR utilizes proactive threat hunting capabilities, enabling security teams to uncover hidden threats and vulnerabilities before they can be exploited by attackers.
Integrated EDR and endpoint protection: The MDR service incorporates EDR capabilities and endpoint protection solutions to secure an organization's network and devices.
Best Practices for Using Bitdefender
Integrate with SIEM
For businesses, integrating Bitdefender with a Security Information and Event Management (SIEM) system can enhance your security posture. A SIEM system collects and analyzes security-related events from various sources within your IT environment, helping you detect suspicious activities and respond to incidents.
When integrated with a SIEM system, Bitdefender can provide input for the analysis. This integration can also streamline incident response, as Bitdefender can take automated actions based on the SIEM system's findings, such as isolating infected systems.
Enable Active Threat Control
One of the most noteworthy features of Bitdefender is the Active Threat Control. This feature is designed to detect and eliminate threats in real-time. Active Threat Control uses heuristic methods to identify signs of malicious activities. Ensure Active Threat Control is always turned on, and regularly check the logs to identify any potential threats that have been blocked.
Use Multi-Cloud Protection
Bitdefender's Multi-cloud Protection offers security solutions for all your cloud-based data. It provides protection for your data across various cloud platforms, including Google Cloud, Amazon Web Services, and Microsoft Azure.
To optimize the use of Multi-cloud Protection, configure the security settings based on your needs. Regularly monitor your cloud environment for any potential threats. Additionally, ensure that all your cloud-based software and applications are up-to-date to prevent any potential exploits.
Use Policy Configuration
Bitdefender's Policy Configuration is a feature that allows you to customize how Bitdefender works on your system. You can define specific rules and settings that Bitdefender must follow, tailoring the software to fit your security needs and preferences.
The policy configuration feature can be useful in a corporate environment, where different systems might require different security settings. To make the most of this feature, spend some time understanding the different settings and how they impact your security. Overly restrictive policies might provide better protection, but they might also interfere with productivity.
Endpoint Security Management with Cynet
Cynet 360 is a holistic security solution that protects against threats to endpoint security and across your network. Cynet provides tools you can use to centrally manage endpoint security across the enterprise.
Cynet's intelligent technologies can help you detect attacks by correlating information from endpoints, network analytics and behavioral analytics with almost no false positives. 
With Cynet, you can proactively monitor entire internal environments, including endpoints, network, files, and hosts. This can help you reduce attack surfaces and the likelihood of multiple attacks. 
Cynet 360 provides cutting edge EDR capabilities:
Advanced endpoint threat detection

—full visibility and predicts how an attacker might operate, based on continuous monitoring of endpoints and behavioral analysis.

Investigation and validation

—search and review historic or current incident data on endpoints, investigate threats, and validate alerts. This allows you to confirm the threat before responding to it, reducing dwell-time and performing faster remediation.

Rapid deployment and response

—deploy across thousands of endpoints within two hours. You can then use it to perform automatic or manual remediation of threats on the endpoints, disrupt malicious activity and minimize damage caused by attacks.
Learn more about our EDR security capabilities.
In addition, Cynet 360 provides the following endpoint protection capabilities:
Learn more about the Cynet 360 security platform.