Endpoint protection platforms (EPP) are preventative endpoint security solutions, deployed on devices like employee workstations, servers and mobile devices. They provide a range of security capabilities to prevent threats like known and unknown malware, ransomware, and unauthorized access.
Most EPPs are provided in an endpoint as a service (EaaS) model. Solution providers offer a cloud-based platform that collects data from endpoints, and continuously updates endpoints with current threat data. In addition, most solution providers offer managed services to help organizations deploy the solution, manage endpoints and reply to threats.
Cloud-managed endpoint solutions make it possible to perform remote remediation, even for events that are outside the corporate network, and do not require the endpoint to maintain a local database of threats and indicators of compromise (IOCs).
Another advantage of a cloud-based endpoint security model is that every device sends data about security events to the cloud platform, and can immediately receive protection against the latest threats.
In this article, you will learn:
Benefits of Endpoint Security as a Service
Here are a few key benefits of endpoint security as a service, compared to traditional endpoint protection systems, which were deployed on premise without connecting to a central cloud platform.
Observing Attack Tactics in a Controlled Environment
Advanced persistent threats (APTs), performed by organized crime groups and nation states, often try to find vulnerabilities in IT and security systems by procuring those systems, and practicing in their labs until they find a successful attack vector. This was also true for old-style antivirus or endpoint protection systems.
However, with cloud-based endpoint protection, attackers who try to experiment with the endpoint protection agent have their activity recorded by the cloud-based endpoint security platform. The solution provider can observe malicious tactics and stop them before they are used in a real attack.
Data Sharing and Community Protection
The more information a cloud endpoint protection system collects, the better it can defend individual endpoints. When one organization is attacked, or even just one endpoint within an organization, data about the threat can be used to bolster defenses for all endpoints in all organizations.
Protection for Remote Devices and BYOD
In traditional endpoint protection systems, the management console was deployed behind a firewall, so it was unable to connect with devices unless they were in the corporate network, or connected via VPN. This is less relevant for modern scenarios in which organizations support bring your own device (BYOD) and employees commonly work from home.
With endpoint security as a service, remote devices can be managed just like on-premise corporate devices.
Scalability and Maintenance
One clear advantage of endpoint security as a service is that organizations no longer need to deploy and secure an endpoint protection server and database. Everything except the endpoint agent is hosted and managed by the provider on the cloud. The organization can easily scale up or down, paying per actual usage, without having to manage scalability of the central server.
Furthermore—the organization saves the costs traditionally associated with management infrastructure. The central console and database are no longer an upfront expense, and are now part of the subscription cost the organization pays per endpoint.
Related content: read our guide to EPP Security – Prevention, Detection and Response
What Should You Look for in an Endpoint Security as a Service Solution?
Here are some of the key features of a modern endpoint security as a service offering:
Next-Generation Antivirus (NGAV)—detects known and unknown (zero day) malware, as well as fileless attacks.
Ransomware protection—able to identify system processes that exhibit ransomware-like behavior, and stop a file encryption process before it does damage.
Real-time threat data—leverages threat data, from the organization itself, collected from other users of the endpoint security service, and threat intelligence feeds.
Behavioral analytics—detects anomalous behavior on an endpoint and able to perform automated actions such as locking down or isolating the endpoint.
Application and browser control—restricts applications and web content accessed by users, to block malicious or inappropriate content.
Device compliance—gathers data from endpoints for auditing, forensic investigation and compliance, and makes it possible to enforce corporate security policies.
Sandbox—provides an isolated folder where malware or other threats can be "detonated" in a controlled manner, to understand their impact without causing damage to the device.
Learn more in our guides to: 
Endpoint security management
Endpoint Security as a Service with Cynet 360
Cynet 360 is a holistic security solution that protects against threats to endpoints and across your network. Cynet provides tools you can use to centrally manage endpoint security across the enterprise.
Cynet's intelligent technologies can help you detect attacks by correlating information from endpoints, network analytics and behavioral analytics with almost no false positives.
With Cynet, you can proactively monitor the entire internal environment, including endpoints, network, files, and hosts. This can help you reduce attack surfaces and the likelihood of sophisticated attacks.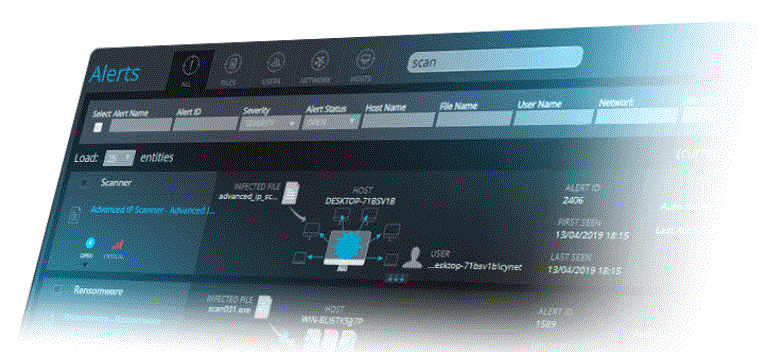 Cynet 360 provides cutting edge XDR capabilities:
Advanced endpoint threat detection—full visibility and predicts how an attacker might operate, based on continuous monitoring of endpoints and behavioral analysis.
Investigation and validation—search and review historic or current incident data on endpoints, investigate threats, and validate alerts. This allows you to confirm the threat before responding to it, reducing dwell-time and performing faster remediation.
Rapid deployment and response—deploy across thousands of endpoints within two hours. You can then use it to perform automatic or manual remediation of threats on the endpoints, disrupt malicious activity and minimize damage caused by attacks.
Learn more about our XDR platform.
In addition, Cynet 360 provides the following endpoint protection capabilities:
Learn more about the Cynet 360 security platform.