What Is Sophos? 
Sophos is a British cybersecurity company that specializes in providing comprehensive security solutions to protect organizations and users from various digital threats. Founded in 1985, the company offers a wide range of products and services, including endpoint protection, network security, cloud security, and encryption. 
Sophos is known for its user-friendly and easily manageable solutions. Its products are designed to safeguard devices, networks, and data from malware, ransomware, phishing, and other cyberattacks. 
This is part of a series of articles about endpoint security. 
Sophos Cyber Security Products and Solutions
Endpoint Protection
Sophos endpoint protection solutions are designed to secure devices and networks from various cyber threats. These solutions focus on providing robust security for endpoints such as desktops, laptops, mobile devices, and servers.
Intercept X Endpoint
Intercept X Endpoint is a next-generation endpoint security solution that combines technologies like deep learning, exploit prevention, and anti-ransomware capabilities to protect devices against known and unknown malware, ransomware, and zero-day threats.
Sophos MDR Services
Sophos Managed Detection and Response (MDR) Services complement the company's endpoint protection solutions by providing round-the-clock monitoring, threat hunting, and incident response. 
The MDR service is powered by an expert team of cybersecurity analysts who work in conjunction with Sophos' AI-driven threat detection and response technologies. This collaboration enables the service to identify, investigate, and neutralize threats before they cause significant damage.
Sophos Mobile
Sophos Mobile is a mobile device management (MDM) and mobile threat defense (MTD) solution designed to secure and manage a wide range of devices, including smartphones, tablets, and laptops, running on Android, iOS, and Windows operating systems. This solution offers a centralized console for managing device policies, application control, and security features. 
Key features of Sophos Mobile include:
Mobile threat defense:

Sophos Mobile integrates with Intercept X for Mobile to protect devices from malware, network threats, and malicious apps, ensuring data security and user privacy.

Device management:

IT administrators can configure device settings, enforce security policies, and remotely lock or wipe devices in case of loss or theft.

Application management:

Sophos Mobile enables administrators to manage and secure corporate apps, ensuring that only authorized users have access to sensitive data.
Compliance enforcement: The solution helps organizations maintain regulatory compliance by monitoring and enforcing policies across devices, users, and apps.
Network Security
Sophos network security solutions are designed to provide businesses with protection against a wide array of cyber threats targeting their networks and infrastructure.
Sophos Firewall
Sophos Firewall is a next-generation firewall (NGFW) that delivers protection by combining deep packet inspection, intrusion prevention, application control, and other security features. The solution is designed to secure organizations' networks from external and internal threats while providing visibility and manageability. 
Key features and capabilities of Sophos Firewall include:
Deep packet inspection:

Sophos Firewall examines the content of network packets, allowing it to detect and block malicious traffic, enforce policies, and maintain control over network usage.

Intrusion prevention system (IPS):

By using advanced techniques such as signature and anomaly detection, the IPS feature identifies and blocks network attacks, including zero-day threats, before they can cause harm.

Application control:

This functionality enables organizations to identify, prioritize, and control the usage of applications on their networks, ensuring optimal bandwidth allocation and preventing unauthorized access to sensitive data.
Sandboxing: Sophos Firewall integrates with Sophos Sandstorm, a cloud-based sandboxing solution, to analyze and block advanced threats, including unknown malware and ransomware.
Sophos ZTNA
Sophos ZTNA (Zero Trust Network Access) is a cloud-delivered solution that provides secure access to applications and resources based on the Zero Trust security model. This approach assumes that no user or device should be trusted by default, and access is granted only after proper verification. Sophos ZTNA helps organizations to reduce their attack surface and minimize the risk of unauthorized access and data breaches. 
Key features and benefits of Sophos ZTNA include:
Identity-based access:

Access to applications and resources is granted based on the user's identity, role, and context, ensuring that only authorized users can access sensitive data.

Micro-segmentation:

Sophos ZTNA enables organizations to segment their networks into smaller, isolated zones, limiting the potential impact of a security breach.

Device security posture check:

Before granting access, Sophos ZTNA assesses the security posture of the requesting device, verifying that it meets the organization's security requirements.
Sophos Wireless
Sophos Wireless is a Wi-Fi security and management solution that simplifies the deployment, management, and monitoring of secure wireless networks. It integrates with Sophos Firewall, providing a unified security and management platform. 
Key features of Sophos Wireless include:
Centralized management:

Sophos Wireless can be managed through Sophos Central or Sophos Firewall, offering a single interface for managing both wired and wireless networks.

Security:

Sophos Wireless provides security features such as WPA3 encryption, rogue AP detection, and wireless intrusion prevention, ensuring the protection of network traffic and user data.

Scalability:

The solution can support multiple access points and networks, making it suitable for organizations of various sizes and enabling them to expand their wireless infrastructure as needed.

Guest access:

Sophos Wireless allows organizations to provide secure, customized guest access to their Wi-Fi network, ensuring visitors have internet connectivity without compromising network security.
Reporting and analytics: With built-in reporting and analytics features, Sophos Wireless helps administrators monitor network performance, identify potential issues, and optimize the wireless infrastructure.
Sophos Switch
Sophos Switch is a range of high-performance, secure, and easy-to-manage Ethernet switches designed to work with Sophos Firewall and Sophos Wireless solutions. These switches provide security, simplified management, and improved network performance for organizations.
Email Protection
Sophos offers solutions for email and cloud security.
Sophos Email
Sophos Email is a cloud-based email security solution designed to protect organizations from spam, phishing, malware, and other email-borne threats. By combining advanced threat protection technologies and policy-based email management, Sophos Email aims to identify and block malicious messages before reaching users' inboxes. 
Key features of Sophos Email include:
Anti-spam and anti-malware protection:

Sophos Email utilizes scanning techniques, machine learning, and real-time threat intelligence to detect and block spam, malware, and other harmful email content.

Impersonation protection:

The solution identifies and blocks phishing emails that attempt to impersonate legitimate senders, reducing the risk of users falling victim to targeted attacks.

Data loss prevention (DLP):

Sophos Email offers DLP capabilities that help organizations prevent sensitive information from being inadvertently leaked or intentionally exfiltrated through email.
Email encryption: The solution supports email encryption, ensuring the confidentiality and integrity of sensitive messages during transit.
Sophos Phish Threat
Sophos Phish Threat is a phishing simulation and training platform that helps organizations educate their employees about phishing threats and reduce the risk of successful attacks. By simulating real-world phishing campaigns, Sophos Phish Threat helps organizations to identify vulnerable users and provide targeted training to improve their security awareness. 
Sophos Security Advantages and Limitations
Advantages of Sophos:
Broad security suite

: Sophos provides a wide range of security solutions, including endpoint security, firewalls, mobile security, and encryption, among others.

Sophos central

: Sophos Central is a unified console that allows for management of all Sophos products from a single interface. This simplifies the administration of security protocols across an organization.

Intercept X

: Sophos Intercept X uses deep learning technology to provide protection against malware, including ransomware. It also includes exploit prevention and active adversary mitigation.

Synchronized security

: This is a feature where Sophos solutions can communicate with each other. For instance, if the endpoint security system detects a threat, it can instantly communicate with the firewall to isolate the affected system.

User-friendly

: Sophos is known for its intuitive and easy-to-use interfaces, which reduce the complexity of managing security protocols.
Limitations of Sophos:
Performance impact

: Like many antivirus programs, Sophos can have a noticeable impact on system performance, especially during full-system scans.

Limited customization

: While the simplicity of Sophos is often seen as a strength, it also means there are fewer customization options compared to some other solutions.

Cost

: Sophos products tend to be more expensive than other comparable solutions. 

Technical support

: While Sophos generally offers good customer support, users have reported slow response times or difficulties resolving complex issues.
Endpoint Security Management with Cynet
Cynet 360 is a holistic security solution that protects against threats to endpoint security and across your network. Cynet provides tools you can use to centrally manage endpoint security across the enterprise.
Cynet's intelligent technologies can help you detect attacks by correlating information from endpoints, network analytics and behavioral analytics with almost no false positives. 
With Cynet, you can proactively monitor entire internal environments, including endpoints, network, files, and hosts. This can help you reduce attack surfaces and the likelihood of multiple attacks.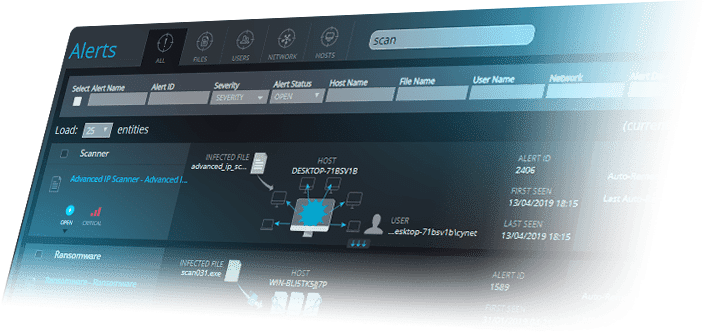 Cynet 360 provides cutting edge EDR capabilities:
Advanced endpoint threat detection

—full visibility and predicts how an attacker might operate, based on continuous monitoring of endpoints and behavioral analysis.

Investigation and validation

—search and review historic or current incident data on endpoints, investigate threats, and validate alerts. This allows you to confirm the threat before responding to it, reducing dwell-time and performing faster remediation.

Rapid deployment and response

—deploy across thousands of endpoints within two hours. You can then use it to perform automatic or manual remediation of threats on the endpoints, disrupt malicious activity and minimize damage caused by attacks.
Learn more about our EDR security capabilities.
In addition, Cynet 360 provides the following endpoint protection capabilities:
Learn more about the Cynet 360 security platform.