What Is Bitdefender? 
Bitdefender is a cybersecurity software company that develops and markets a range of antivirus and internet security products to protect computers, networks, and devices from various threats such as malware, ransomware, and phishing attacks. 
Founded in 2001 and headquartered in Bucharest, Romania, Bitdefender offers solutions for consumers, businesses, and enterprise environments, with a focus on using machine learning and artificial intelligence (AI) to detect and block threats in real-time.
What Is McAfee? 
McAfee is a global cybersecurity company that provides a wide range of security products and services. Founded in 1987 by John McAfee, the company has become one of the largest cybersecurity providers in the world. McAfee's products and services protect individuals, organizations, and governments against cyber threats.
This is part of a series of articles about endpoint security
Bitdefender vs. McAfee: 5 Key Differences
1. Features
Both Bitdefender and McAfee offer a comprehensive set of features to protect users against various cyber threats. The table below highlights some key differences and similarities in their offerings, along with an explanation for each feature.
| | | | |
| --- | --- | --- | --- |
| Feature | Description | Bitdefender | McAfee |
| Anti-malware | Protects against viruses, worms, Trojans, and other malicious software | Yes | Yes |
| Anti-ransomware | Prevents unauthorized encryption of files and blocks ransom demands | Yes | Yes |
| Anti-phishing | Protects users from fraudulent websites that attempt to steal personal information | Yes | Yes |
| SafePay/Secure Browser | Provides a secure environment for online transactions, such as shopping and banking | SafePay | Secure Browser |
| Password Manager | Securely stores and manages passwords for different online accounts | Yes | Yes |
| Webcam Protection | Prevents unauthorized applications from accessing the user's webcam | Yes | No |
| Parental Controls | Allows parents to monitor and control their children's online activities, including content filtering | Yes | Yes |
| VPN | Encrypts internet connections, providing anonymity and protection against hackers and other threats | Yes | Yes |
| Identity Theft Protection | Monitors personal information and alerts users of potential breaches or misuse of their identity | No | Yes |
| File Shredder | Securely deletes sensitive files, ensuring they cannot be recovered by unauthorized parties | Yes | Yes |
| System Optimization | Optimizes system performance by cleaning up temporary files and other unnecessary data | Yes | No |
| Firewall Protection | Blocks unauthorized network access and protects users from hackers and other network-based threats | Yes | Yes |
2. Real-Time Protection
Bitdefender uses machine learning algorithms to deliver real-time protection against various threats. It consistently scores high on independent antivirus testing labs.
McAfee also offers real-time protection using advanced technologies and scores well in independent antivirus testing labs, although Bitdefender often has a slight edge in terms of detection rates.
3. Scanning
Bitdefender offers multiple scanning options, including:
Quick scans:

Focus on areas where malware is most likely to reside.

Full scans:

Analyze the entire system, including all files, folders, and connected devices. 

Custom scans:

Allow users to select specific files or folders to be scanned. 
Bitdefender's scanning is fast and does not significantly impact system performance.
McAfee also provides quick, full, and custom scan options. Although McAfee's scanning is efficient, it might be slightly slower than Bitdefender's, particularly during full system scans. However, the performance impact on the system is generally minimal.
4. Firewall Protection
Bitdefender's firewall protection is robust and user-friendly. It offers automatic configurations for different network profiles (public, private, or work) and advanced settings for customization. The firewall blocks unauthorized network access, protecting users from hackers and other network-based threats. Bitdefender's firewall also includes intrusion detection and prevention features to guard against advanced network attacks.
Like Bitdefender, McAfee provides automatic configurations for different network profiles and allows advanced customization to suit users' needs. McAfee's firewall blocks unauthorized network access and includes intrusion detection and prevention capabilities to counter advanced network attacks.
5. Pricing
Bitdefender's pricing is generally considered more affordable than McAfee's. The company offers various subscription plans depending on the number of devices and features required. For example, Bitdefender Antivirus Plus covers essential protection for up to three devices, while Bitdefender Total Security includes more advanced features and covers multiple devices. 
McAfee's pricing is typically higher than Bitdefender's, but they also offer a range of subscription plans with different features and device coverage. For instance, McAfee Total Protection is available in single-device, multi-device, and family plans, with varying features depending on the chosen plan. Discounts and promotions are occasionally available, which can help reduce the overall cost.
Bitdefender vs McAfee: How to Choose
Both Bitdefender and McAfee offer comprehensive antivirus and security solutions with strong protection against various cyber threats. Bitdefender has an edge in scanning speed and pricing, while McAfee offers additional features like identity theft protection and a more intuitive interface. 
Choosing between them depends on the user's specific needs, preferences, and budget, and both companies offer free trials for users to try out the software before making a purchase decision.
Learn more in our detailed guide to Bitdefender security (coming soon)
Endpoint Security Management with Cynet
Cynet 360 is a holistic security solution that protects against threats to endpoint security and across your network. Cynet provides tools you can use to centrally manage endpoint security across the enterprise.
Cynet's intelligent technologies can help you detect attacks by correlating information from endpoints, network analytics and behavioral analytics with almost no false positives. 
With Cynet, you can proactively monitor entire internal environments, including endpoints, network, files, and hosts. This can help you reduce attack surfaces and the likelihood of multiple attacks.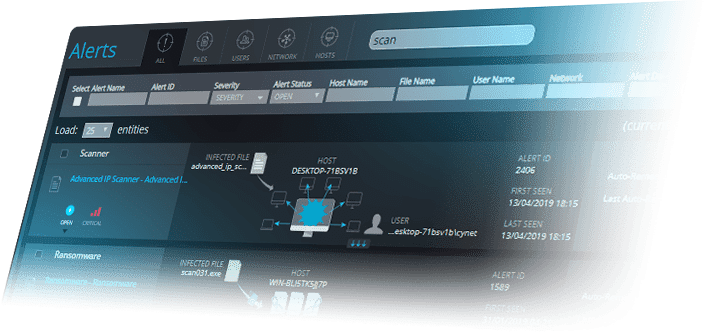 Cynet 360 provides cutting edge EDR capabilities:
Advanced endpoint threat detection

—full visibility and predicts how an attacker might operate, based on continuous monitoring of endpoints and behavioral analysis.

Investigation and validation

—search and review historic or current incident data on endpoints, investigate threats, and validate alerts. This allows you to confirm the threat before responding to it, reducing dwell-time and performing faster remediation.

Rapid deployment and response

—deploy across thousands of endpoints within two hours. You can then use it to perform automatic or manual remediation of threats on the endpoints, disrupt malicious activity and minimize damage caused by attacks.
Learn more about our EDR security capabilities.
In addition, Cynet 360 provides the following endpoint protection capabilities:
Learn more about the Cynet 360 security platform.