What Is SentinelOne? 
SentinelOne, founded in 2013, is a cybersecurity vendor that provides advanced threat detection and response. It takes a proactive approach to cybersecurity, identifying potential threats before they can cause significant damage. The platform's autonomous capabilities reduce the need for manual intervention, reducing the workload for IT teams.
SentinelOne is an 'active EDR', which means it doesn't just react to threats but proactively searches for them. It monitors all activity within your digital infrastructure, detecting anomalies and flagging potential threats. Once a threat is identified, SentinelOne provides context of the threat, tracing it back to its root cause, and offers remediation guidance.
This is part of a series of articles about endpoint security
SentinelOne Disadvantages
While SentinelOne is a respected solution, it does have some disadvantages that might lead some customers to seek competitors and alternatives.
Complex Interface
One of the most common criticisms of SentinelOne is its complex user interface. While the platform offers a plethora of features and capabilities, mastering these can prove to be a steep learning curve, especially for users with limited technical expertise. According to many in the industry, the user interface is not as intuitive as some of its competitors.
While the platform offers comprehensive documentation and user guides, the complexity of the user interface can still pose significant challenges, particularly for small businesses with limited IT resources.
Compatibility Issues
Another potential drawback of SentinelOne is its compatibility issues. While the platform supports a wide range of operating systems including Windows, Mac, and Linux, it sometimes struggles with certain configurations and environments.
For instance, some users have reported issues when deploying SentinelOne on older operating systems or uncommon configurations. This might raise some challenges when integrating SentinelOne into an existing IT infrastructure.
False Positives
Like many cybersecurity solutions, SentinelOne faces the problem of false positives. False positives refer to instances where the platform flags a harmless activity as a potential threat, leading to unnecessary alerts and actions.
While SentinelOne's AI-driven approach reduces the likelihood of false positives, they can still occur. When they do, they can create unnecessary workload for IT teams and potentially disrupt legitimate business activities. Therefore, businesses need to ensure they have the necessary resources to identify and manage false positives effectively.
Pricing
Finally, the pricing structure of SentinelOne can be a potential roadblock for some businesses. While the platform offers a comprehensive range of features and capabilities, its pricing reflects this. Small businesses or startups operating on a tight budget might find SentinelOne's pricing prohibitive. However, it's important to note that SentinelOne pricing includes several tiers, allowing businesses to choose a package that best suits their needs and budget.
Learn more in our detailed guide to SentinelOne pricing (coming soon)
Top SentinelOne Competitors and Alternatives
While SentinelOne is a strong contender, there are several other robust cybersecurity solutions that businesses can consider. In this section, we'll review some of the top SentinelOne competitors and alternatives.
Cynet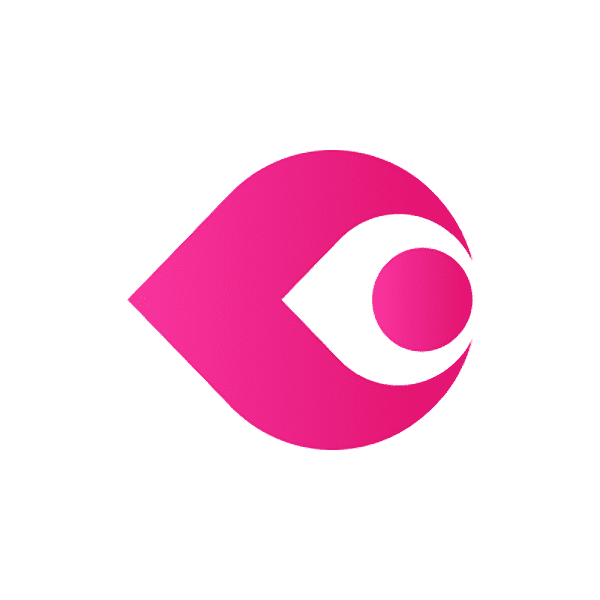 Cynet is a cybersecurity platform that offers a comprehensive suite of security tools. It provides threat detection and response, user and entity behavior analytics (UEBA), and network traffic analysis (NTA). Unlike SentinelOne, whose primary focus is on endpoint security, Cynet offers a broader range of security capabilities.
Cynet's strength lies in its ability to provide a holistic view of a company's security landscape. It can identify abnormal behavior and respond quickly to threats, reducing the time it takes to mitigate potential risks. Cynet is a full extended detection and response (XDR) platform, backed by a 24/7 world-class managed detection and response (MDR) service.
Learn more about the Cynet 360 Platform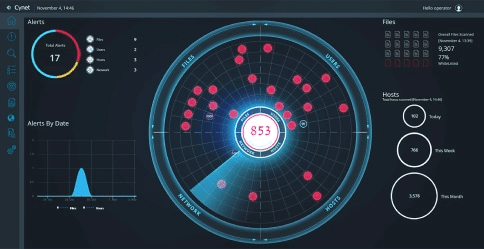 Symantec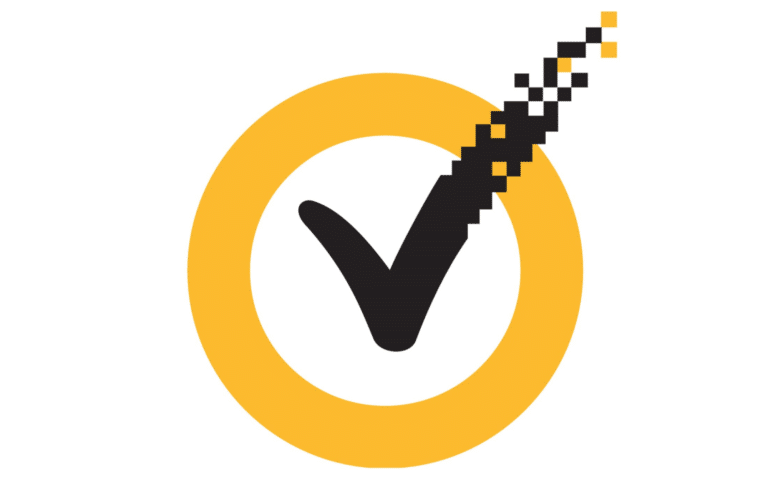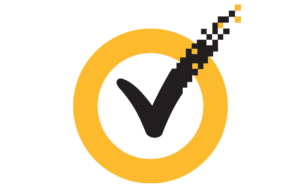 Symantec, now a part of Broadcom provides an endpoint security solution with advanced threat prevention, detection, and response capabilities.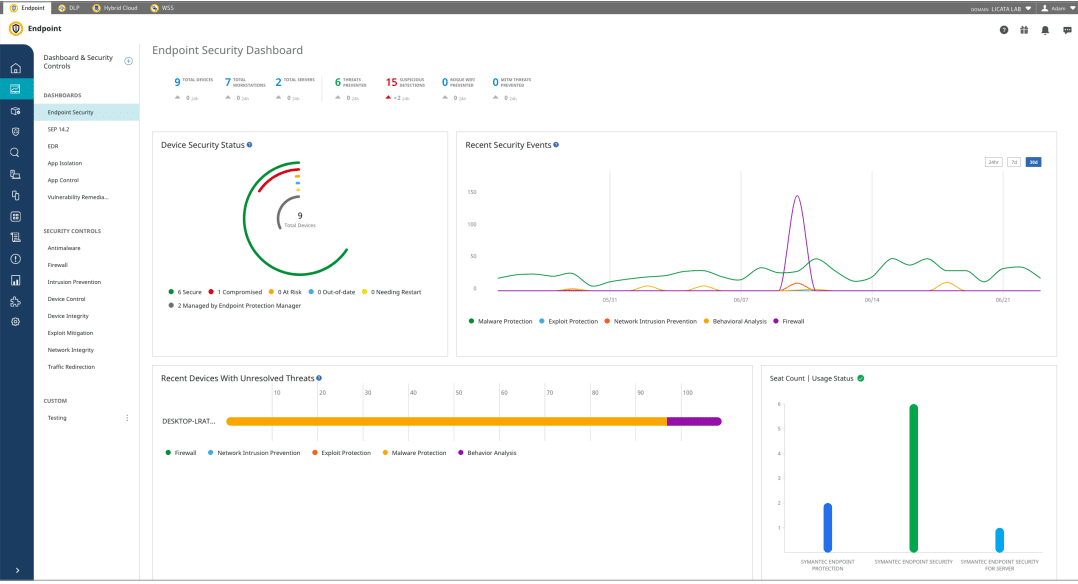 Source: Broadcom
Symantec combines traditional signature-based protection and additional detection technologies. Its global presence and threat intelligence network give it an edge in identifying and mitigating threats.
Sophos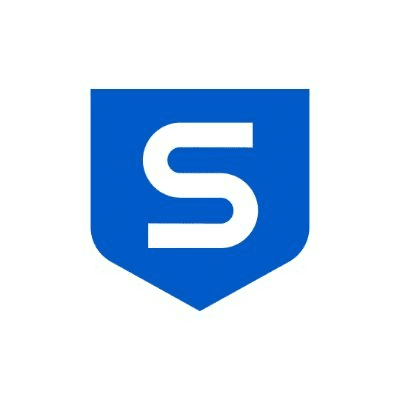 Sophos Intercept X is an endpoint security product that uses deep learning to detect known and unknown malware without relying on signatures. It also offers exploit prevention, active adversary mitigation, and ransomware protection.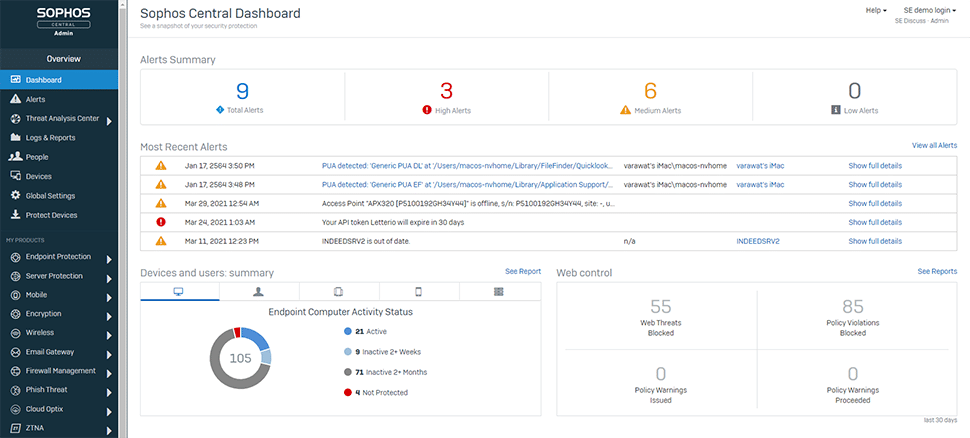 Source: Sophos
Compared to SentinelOne, Sophos' strength lies in its ease of use, making it a good choice for smaller businesses or companies without a dedicated IT department. However, it may not offer the same level of advanced threat detection and response as SentinelOne.
Palo Alto Networks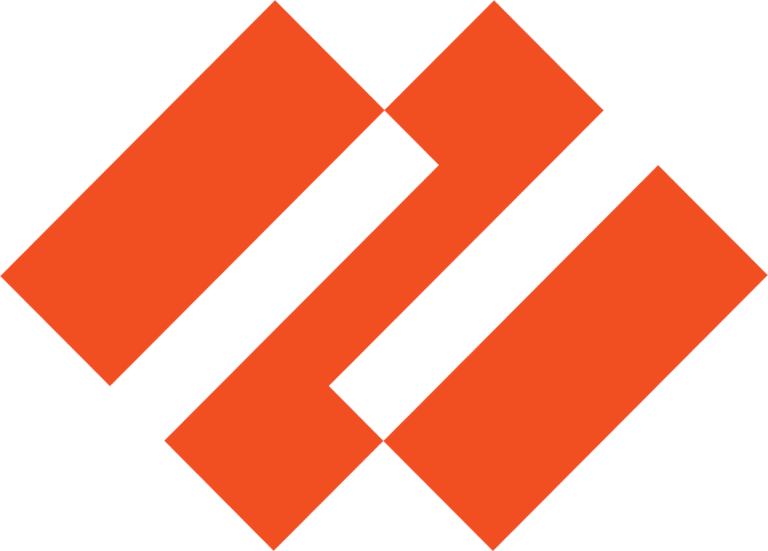 Palo Alto Networks' Cortex XDR is a detection and response platform that integrates network, endpoint, and cloud data to stop sophisticated attacks. Its features include behavioral analytics, machine learning, and automated threat hunting.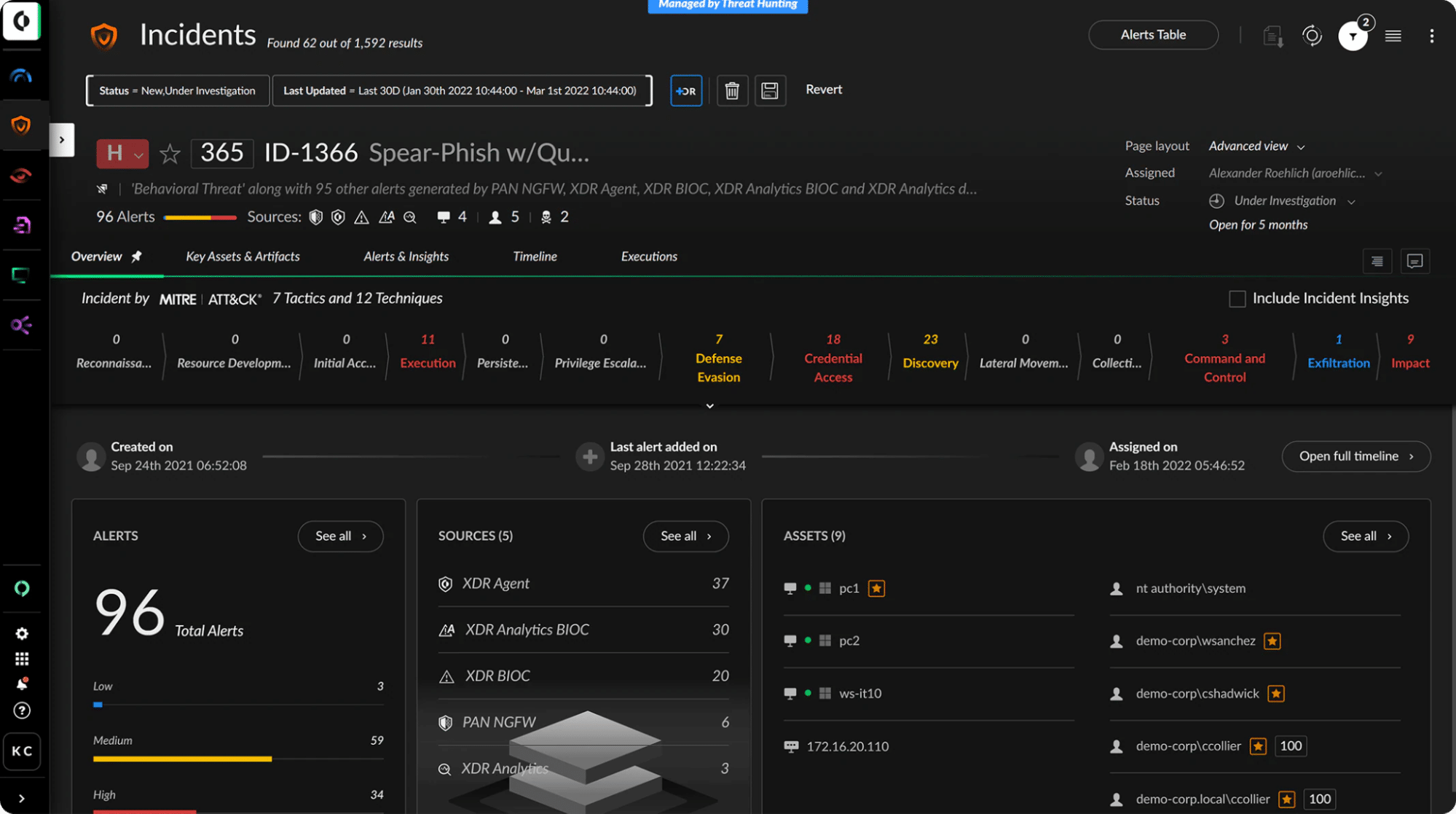 Source: Palo Alto Networks
While SentinelOne focuses on endpoint protection, Palo Alto Networks provides a broader security solution. By integrating different aspects of security, it provides a broader approach to threat detection and response. However, its broad functionality makes it more complex to operate compared to SentinelOne.
CrowdStrike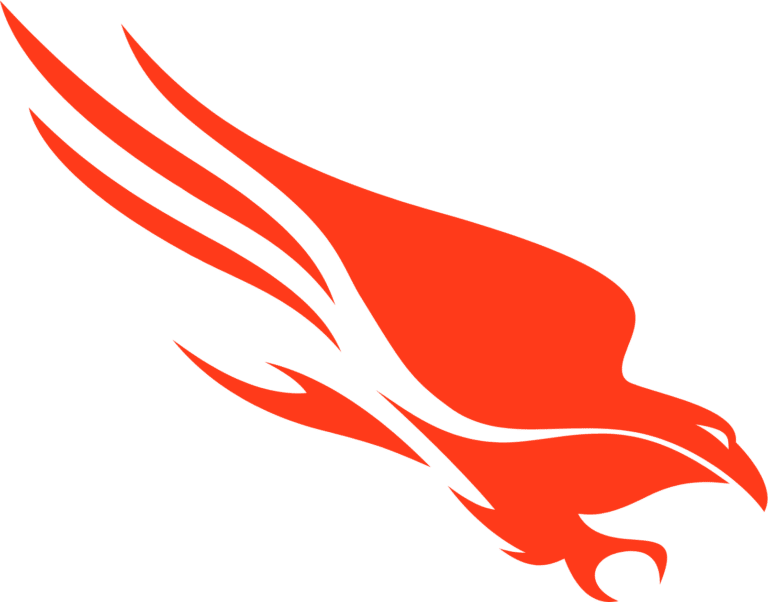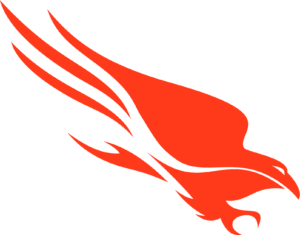 CrowdStrike is a cloud-native endpoint security platform that uses AI to offer threat prevention, detection, and response. Its Falcon platform is scalable, making it suitable for large organizations, and provides real-time threat intelligence.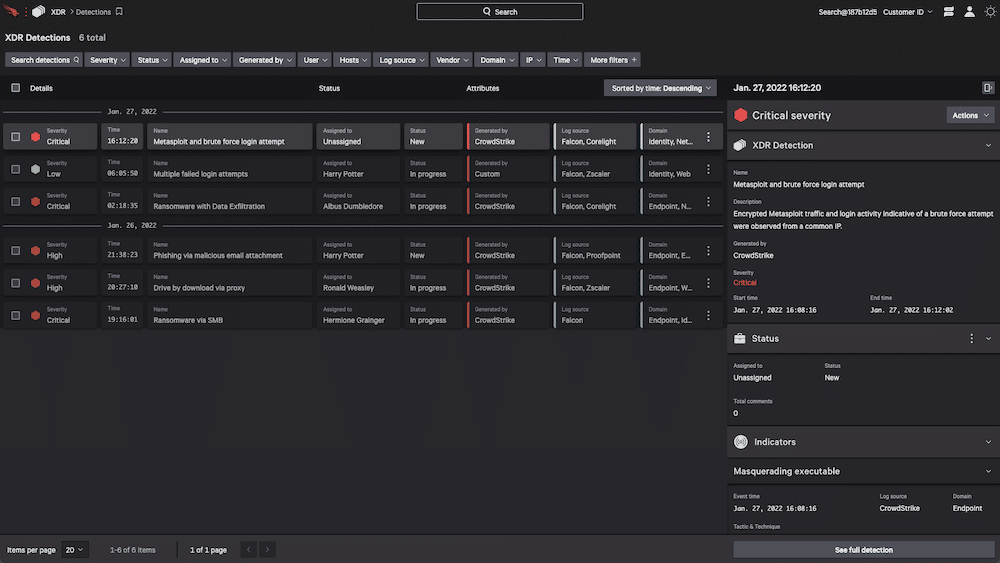 Source: CrowdStrike
CrowdStrike and SentinelOne share many similarities, including a cloud-native architecture, AI-driven threat detection, and a focus on endpoint security. However, according to many in the industry, CrowdStrike has better threat intelligence, and is more suitable for large enterprises. At the same time, it might come with a higher price tag than SentinelOne.
Learn more in our detailed guide to SentinelOne vs CrowdStrike (coming soon)
Cynet 360: the Ultimate SentinelOne Alternative
Cynet 360 is a security solution that includes a complete Endpoint Protection Platform (EPP), with built-in EDR security, a Next-Generation Antivirus (NGAV), and automated incident response. Cynet makes it easier to adopt a modern security toolset by offering an "all in one" security model: Cynet 360 goes beyond endpoint protection, offering network analytics, UEBA and deception technology. 
Cynet's platform includes:
NGAV

—blocks malware, exploits, LOLBins, Macros, malicious scripts, and other known and unknown malicious payloads.

Zero-day protection

—uses User and Entity Behavior Analytics (UEBA) to detect suspicious activity and block unknown threats.

Monitoring and control

—asset management, endpoint vulnerability assessments and application control, with auditing, logging and monitoring.

Response orchestration

—automated playbooks and remote manual action for remediating endpoints, networks and user accounts affected by an attack.

Deception technology

—lures attackers to a supposedly vulnerable honeypot, mitigating damage and gathering useful intelligence about attack techniques.

Network analytics—

identifying lateral movement, suspicious connections and unusual logins.
Learn more about the Cynet 360 security platform.