What is Sophos? 
Sophos is a British cybersecurity firm, established in 1985, which specializes in end-user and network security. Their suite of security products includes Sophos Central, a console that manages all Sophos security solutions from one place. They also provide solutions for endpoint protection, firewall, mobile security, encryption, and web gateway.
Sophos uses artificial intelligence and machine learning in its security solutions, and provides the concept of synchronized security, which allows for better communication between security solutions, resulting in improved protection.
This is part of a series of articles about endpoint security.
Sophos Pricing Structure
Sophos Pricing Model
Sophos has a subscription-based pricing model. The cost of their services typically depends on the security solution and the number of users or devices you need to cover. They offer both monthly and annual subscriptions, with discounts granted for longer subscriptions.
Sophos also provides a free trial option for most of their products. This allows potential clients to test out their services before committing to a full subscription.
Pricing Tiers
Sophos offers different pricing tiers for each of their products. These tiers usually range from basic to premium, with each tier offering a different set of features.
For instance, their endpoint protection solution comes in three tiers—Sophos Endpoint Protection, Sophos Intercept X, and Sophos Intercept X Advanced. The basic tier provides essential features like anti-malware, live protection, and web security, while the premium tiers come with advanced features like deep learning technology, exploit prevention, and active adversary mitigation.
Factors Impacting Pricing
To summarize, several factors can influence the final pricing of Sophos's cybersecurity solutions: 
The security product or service you choose

The pricing tier

The number of users or devices you wish to cover

The length of your subscription
5 Core Sophos Offerings and Pricing
Sophos offers multiple packages that include antivirus software, endpoint protection, firewall, mobile security, and phishing threat protection. 
Please note: Sophos does not make its pricing public. Below we have collected pricing from several online sources. While we cannot guarantee their accuracy, they should give you a general idea of the solution's cost. For up to date pricing, contact Sophos.
1. Sophos Antivirus
Sophos Antivirus is a tool that provides real-time protection against an array of malware types, including viruses, ransomware, and spyware. The software is easy to install and operates in the background with minimal performance impact.
Sophos Antivirus offers several key features such as malicious URL blocking, phishing protection, and a malware scanning system.
Package price: According to All About Cookies, Sophos Antivirus costs $34.99–$44.99 / year
2. Sophos Intercept X
Sophos Intercept X is an endpoint security solution that uses deep learning technology to protect against zero-day threats. This software detects and blocks known and unknown malware, exploits, and ransomware before they can infiltrate your system.
Sophos Intercept X includes CryptoGuard technology, which reverses the effects of ransomware by restoring files to their pre-attack state. Additionally, it offers root cause analysis, which helps you understand how an attack happened and what you can do to prevent a similar incident in the future.
Package price: According to TrustRadius, Sophos Intercept X has 3 pricing editions:
Intercept X Advanced: $28 / user / year

Intercept X Advanced with XDR: $48 / user / year

Sophos Managed Threat Response: $79 / user / year
3. Sophos Firewall
The Sophos Firewall is a network security solution. It provides visibility into your network, allowing you to monitor and control all users and applications actively. The software includes features such as intrusion prevention, web filtering, and VPN support.
Sophos Firewall has a user-friendly interface, and provides multiple reports for security teams and stakeholders.
Package price: According to ESecurityPlanet, pricing for Sophos Firewall starts at around $500.
4. Sophos Mobile Security (Sophos Intercept X for Mobile)
Sophos Mobile Security protects an organization's mobile devices from a range of threats, including malware, phishing attacks, and data breaches.
Sophos Mobile Security offers anti-malware scanning, web filtering, and device management. It also includes a secure QR code scanner.
Package price: According to Enterprise AV, Sophos Central Intercept X for Mobile, with 1-9 users, costs $34.40 / user / year. The cost goes down to $31.50 for 10-24 users and $29.75 for 25-49 users.
5. Sophos Phish Threat
Sophos Phish Threat is a security awareness training and phishing simulation service. It educates your employees about the risks of phishing attacks and tests their ability to identify and respond to such threats.
Sophos Phish Threat offers a variety of training modules on topics such as phishing, ransomware, and password security. It also provides detailed reporting that helps you understand your organization's vulnerability to phishing attacks. Pricing for Sophos Phish Threat is based on the number of users and the length of the subscription.
Package price: According to Firewalls.com, Sophos Phish Threat costs $38 / year
Learn more in our detailed guide to Sophos endpoint protection
Cynet 360: The Ultimate Sophos Alternative
Cynet 360 is a holistic security solution that protects against threats to endpoint security and across your network. Cynet provides tools you can use to centrally manage endpoint security across the enterprise.
Cynet's intelligent technologies can help you detect attacks by correlating information from endpoints, network analytics and behavioral analytics with almost no false positives. 
With Cynet, you can proactively monitor entire internal environments, including endpoints, network, files, and hosts. This can help you reduce attack surfaces and the likelihood of multiple attacks.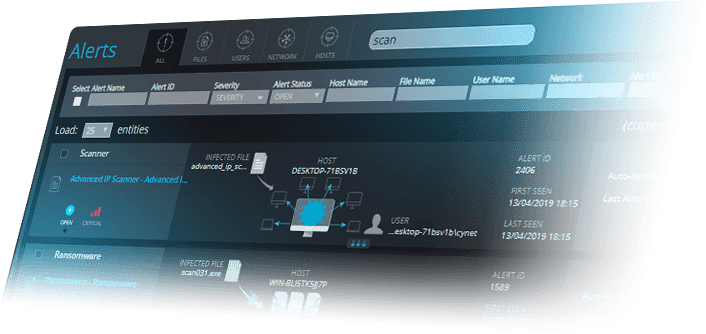 Cynet 360 provides cutting edge EDR capabilities:
Advanced endpoint threat detection

—full visibility and predicts how an attacker might operate, based on continuous monitoring of endpoints and behavioral analysis.

Investigation and validation

—search and review historic or current incident data on endpoints, investigate threats, and validate alerts. This allows you to confirm the threat before responding to it, reducing dwell-time and performing faster remediation.

Rapid deployment and response

—deploy across thousands of endpoints within two hours. You can then use it to perform automatic or manual remediation of threats on the endpoints, disrupt malicious activity and minimize damage caused by attacks.
Learn more about our EDR security capabilities.
In addition, Cynet 360 provides the following endpoint protection capabilities:
Learn more about the Cynet 360 security platform.