What Is Bitdefender?  
Bitdefender is a cybersecurity software company, founded in 2001, specializing in antivirus and endpoint protection solutions. Its products offer advanced threat detection, prevention, and remediation for individuals, businesses, and government entities. 
Bitdefender's multi-layered security approach helps protect against malware, ransomware, phishing, and other online threats. Bitdefender uses artificial intelligence and machine learning to continuously improve its defenses.
What Is Malwarebytes? 
Malwarebytes is a cybersecurity software company established in 2008, providing anti-malware and endpoint protection solutions. It provides security for individuals and businesses, defending against viruses, malware, ransomware, and other online threats. 
Malwarebytes uses advanced heuristics, behavior-based detection, and real-time protection, and its products are designed to operate without degrading system performance.
This is part of a series of articles about endpoint security
Bitdefender vs. Malwarebytes: 4 Key Differences
1. Features
Bitdefender offers several subscription levels: 
The basic subscription, Bitdefender Antivirus Plus, provides protection for Windows users. These include real-time threat detection, multi-layer ransomware protection, a secure browser for online transactions, a password manager, and a VPN with limited daily data usage. 

Bitdefender's next tier, Internet Security, adds a firewall, parental controls, and privacy features, such as webcam and microphone protection. 

The more advanced Bitdefender Total Security subscription extends these features to macOS, Android, and iOS devices, along with system optimization tools and anti-theft capabilities.

All Bitdefender subscriptions come with a built-in VPN that allows users to browse the internet securely and anonymously. The VPN service in the basic subscription includes a 200 MB per day traffic cap, which is sufficient for casual browsing and online privacy protection. However, users looking for more extensive VPN usage can opt for a separate, unlimited VPN plan.
Malwarebytes provides a set of online security tools, such as malicious website blocking and protection against online trackers, which help keep users safe from cyber threats while browsing the web:
Malwarebytes' Brute Force Protection feature is designed to defend against unauthorized remote access attempts. This functionality helps prevent attackers from exploiting weak passwords and gaining unauthorized access to your system.

Malwarebytes is strongly focused on detecting and removing adware and potentially unwanted programs (PUPs). Its ad-blocking capabilities help to enhance users' online experience by eliminating intrusive ads and protecting against malicious ad content.

Malwarebytes offers a macOS version with essential protection features, such as real-time protection and adware removal. However, it lacks some of the advanced features available for Windows users.
2. Real-Time Protection
Bitdefender and Malwarebytes both offer real-time protection, but they employ different methods to defend against threats. Bitdefender uses a combination of signature-based detection, heuristic analysis, and behavior-based monitoring to identify and block malware, ransomware, and other cyber threats. It also uses artificial intelligence and machine learning for continuous improvement in threat detection.
Malwarebytes, on the other hand, primarily focuses on behavior-based detection, which monitors and analyzes system activities to identify and block suspicious activities. This approach allows Malwarebytes to effectively detect and prevent emerging threats, even if they are not yet included in the signature database.
3. Scanning
Both Bitdefender and Malwarebytes offer various scanning options, including quick scans and full system scans, as well as customization options for targeting specific files or folders. However, 
Bitdefender goes a step further by including a vulnerability assessment feature in its scans. This feature checks for weak passwords, outdated software, missing Windows security patches, and potential network security issues, helping users identify and fix vulnerabilities in their system. While Malwarebytes detects and removes malware, it does not offer a similar vulnerability assessment feature.
4. Firewall Protection
Bitdefender and Malwarebytes differ significantly in terms of firewall protection. Bitdefender includes a built-in firewall in its Internet Security and Total Security subscriptions, which monitors network traffic and blocks unauthorized connections, providing an additional layer of protection against intrusions and hacking attempts.
On the other hand, Malwarebytes does not include a firewall as it is primarily an antivirus and anti-malware solution. While it excels at detecting and removing malware, it relies on the user's operating system or a third-party firewall for network protection. This distinction makes Bitdefender a more comprehensive security solution.
Learn more in our detailed guide to Bitdefender security (coming soon)
Bitdefender vs. Malwarebytes: How to Choose
Bitdefender and Malwarebytes are both reputable antivirus and security software providers, but they cater to slightly different needs and preferences.
Bitdefender is a better choice for users seeking comprehensive, all-around protection with a wide range of features and an affordable price. Malwarebytes is a good option for those primarily focused on malware removal and protection, but it might not provide the same level of overall security as Bitdefender.
Endpoint Security Management with Cynet
Cynet 360 is a holistic security solution that protects against threats to endpoint security and across your network. Cynet provides tools you can use to centrally manage endpoint security across the enterprise.
Cynet's intelligent technologies can help you detect attacks by correlating information from endpoints, network analytics and behavioral analytics with almost no false positives. 
With Cynet, you can proactively monitor entire internal environments, including endpoints, network, files, and hosts. This can help you reduce attack surfaces and the likelihood of multiple attacks.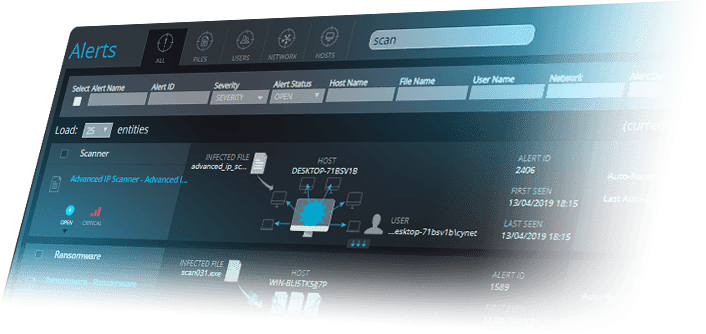 Cynet 360 provides cutting edge EDR capabilities:
Advanced endpoint threat detection

—full visibility and predicts how an attacker might operate, based on continuous monitoring of endpoints and behavioral analysis.

Investigation and validation

—search and review historic or current incident data on endpoints, investigate threats, and validate alerts. This allows you to confirm the threat before responding to it, reducing dwell-time and performing faster remediation.

Rapid deployment and response

—deploy across thousands of endpoints within two hours. You can then use it to perform automatic or manual remediation of threats on the endpoints, disrupt malicious activity and minimize damage caused by attacks.
Learn more about our EDR security capabilities.
In addition, Cynet 360 provides the following endpoint protection capabilities:
Learn more about the Cynet 360 security platform.