By: Max Malyutin
Over the last couple of days, Cynet CyOps and Research teams have been engaged in another wave of the infamous Emotet trojan. This time, with some tweaks and changes under its belt, Emotet keeps reminding us that it is here to stay.
In this article I will briefly cover the Emotet banking trojan evolution over the years followed by discoveries in the recent Emotet malware wave observed by Cynet CyOps.
According to statistics provided by MalwareBazaar and ANY.RUN, Emotet banking trojan is now in the infamous first place of the most popular threats: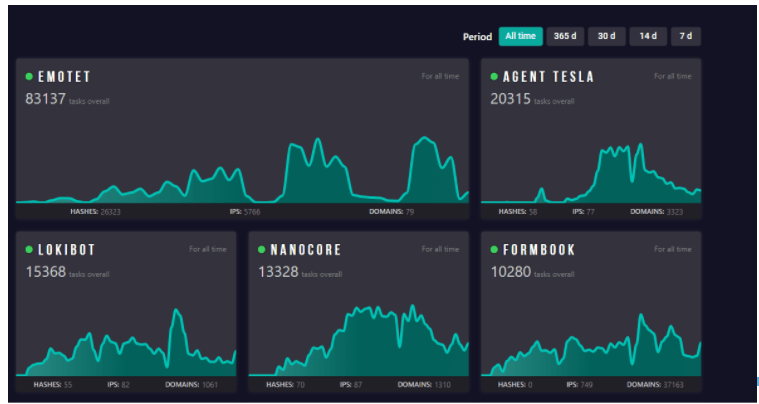 This is part of an extensive series of guides about Malware Protection
Once upon a time in Troy – Emotet malware, a trojan evolution
The first Emotet banking trojan sample was identified in 2014 and was classified as a trojan that steals banking credentials by hooking Internet traffic of the online banking sessions. Over the years, Emotet has upgraded its capabilities and modules.
Since 2017, Emotet has been observed as more than a banking trojan and seems to have evolved into the most dangerous "Dropper". Emotet packs some extremely sophisticated capabilities utilizing different tactics, techniques, and procedures (TTPs), which turned it into the "most serious" threat up until today.
In 2019, Emotet became the most common module in the spread (botnet infrastructure) of banking trojans and ransomware such as Trickbot, Qbot, Ursnif, Ryuk, and Megacortex. You can find additional references in our article covering the 2019 Emotet wave.
Points to note regarding recent malware:
Trickbot

is an advanced banking Trojan that can steal banking credentials by hooking the webpages.

Qbot

is another advanced banking Trojan that can steal banking-sensitive information by using Web-injection techniques.

Ursnif

is an advanced banking trojan that mostly targets corporate victims. Ursnif is one of the most widely-used banking trojans, which is also known as

Gozi

.

Ryuk

is ransomware that was first seen in 2018. This threat also has enumeration capabilities that can map a victim's network and use lateral movement to achieve access to the Domain Controller.

Megacortex

is ransomware that was first seen in 2019. This threat also contains information collection modules and security tool disabling capabilities.
After a short period of time with little activity, a new wave of Emotet campaigns strike again. This Emotet threat actor uses a new chain of execution that has evolved and switched the EXE file of the Emotet binary to a DLL file, which is loaded through the Rundll32 process. In addition, Emotet has now added fake error messages to weaponized Microsoft Office documents.
Over the past few days we discovered yet another wave of Emotet that lures its victims by spreading phishing emails with Christmas Day cards and COVID-19 report attachments. In most cases the observed phishing emails were in Italian, English, and German.
Emotet threat actors are abusing the COVID-19 epidemic and have invested significant resources in social engineering to lure victims to open and execute the attachment doc file inside the phishing email.
Cynet360 detection mechanisms can detect and prevent both the new Emotet wave as well as the old ones!
Behold – A new chain of execution
A fake Microsoft Office document error message:
Cynet vs. Emotet
The Cynet360 platform has become intimately familiar with Emotet trojan activities in the last few years and provides full protection and prevention capabilities against these Emotet waves as demonstrated here.
The following is one of the latest samples of Emotet Malicious Office Document and DLLs that were detected by Cynet360: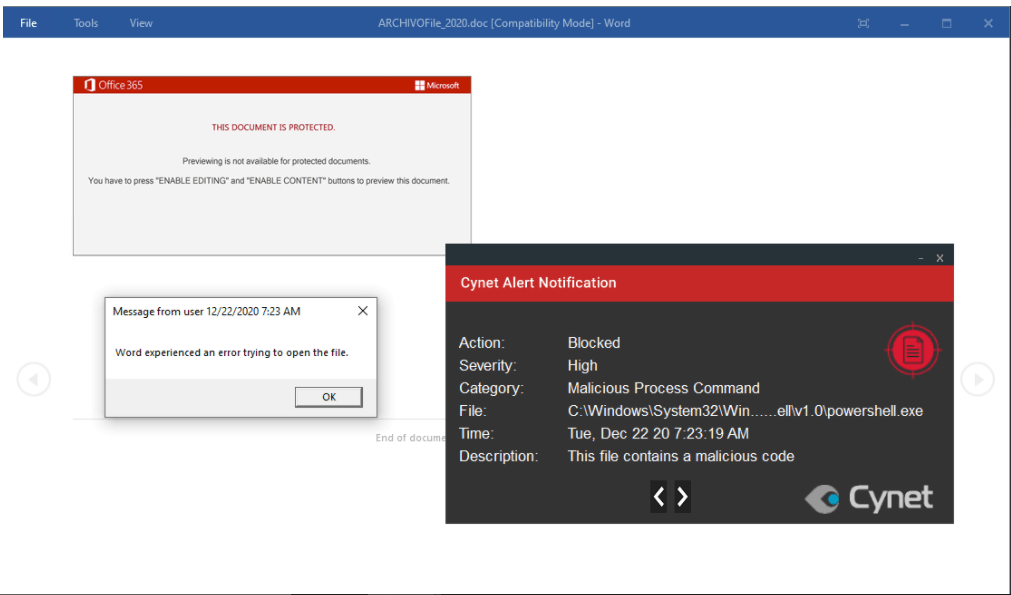 Additionally, CyAI (Cynet's built-in NGAV  solution) classified a "fresh" Emotet DLL binary as malicious and scored it 100/100. This Emotet detection sample was uploaded to VirusTotal on 22/12/2020.
Upload history:
The following new Emotet campaign activities were detected by Cynet 360 recently in European regions, mainly in Italy:
22/12/2020: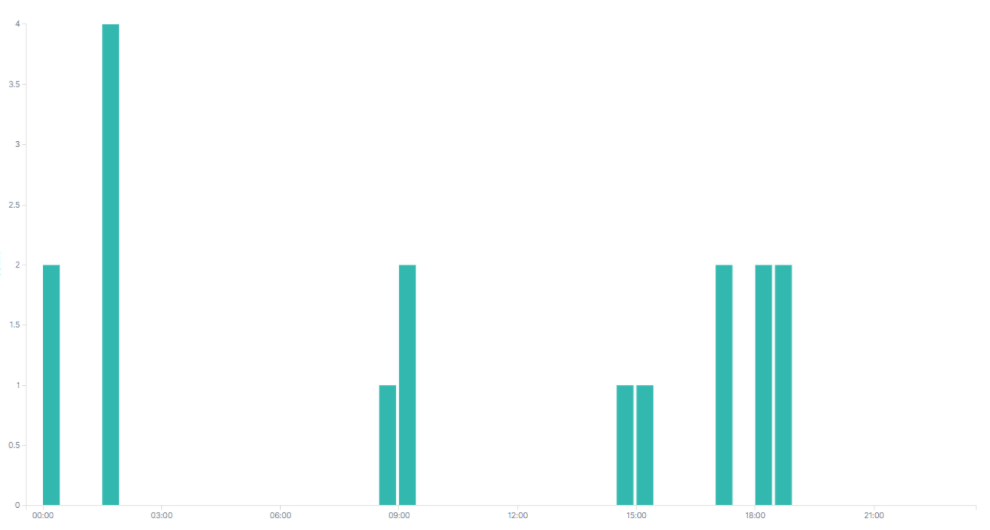 Cynet detected malicious Emotet activity and triggered a high severity alert.

Emotet process tree flow:
The Cynet 360 platform enables our customers to perform a remote action on the malicious file or on the infected host.
File/Process actions can be sent when a malicious file is detected.
These actions immediately delete/quarantine/kill the file/process from all the infected hosts.

There are more actions that our customers can use such as sending suspicious/malicious files to our CyOps team, sending the files to Cynet's internal sandbox, or pulling the files from the host.
Furthermore, there is a range of remedial actions related to the hosts that can be used in the event of an incident response investigation: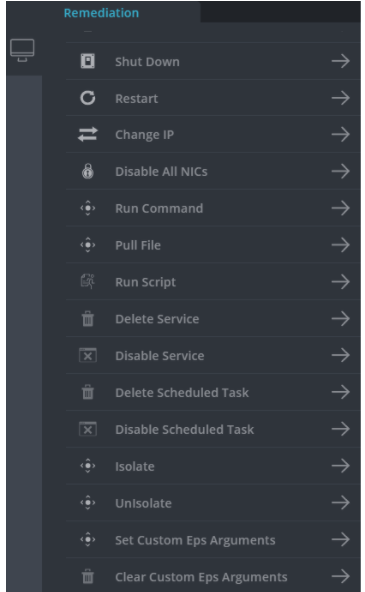 This time, it seems that Emotet's new wave goes back to its origins, dropping the Trickbot banker trojan on the infected hosts.
Initial Access T1566.001—Phishing: Spearphishing Attachment:
The most common initial foothold on a victim's machine are Spearphishing emails.
MITRE – "Adversaries may send spearphishing emails with a malicious attachment in an attempt to gain access to victim systems. Spearphishing attachment is a specific variant of spearphishing. Spearphishing attachment is different from other forms of spearphishing in that it employs the use of malware attached to an email."
"Who needs Zero-days when you have Outlook?"
The Emotet campaigns begin with a malspam email that contains Malicious Office Documents (weaponized Microsoft Office documents), or hyperlinks attached to the phishing email, which is widely distributed and lures victims into opening malicious attachments. The weaponized Office document has a highly obfuscated VBA code and AutoOpen macro for its execution. The Emotet group lures its victims to enable the macros and this is the only user interaction required to initiate the attack. This user interaction enables bypassing sandboxes tests and verifications.
MITRE ATT&CK MATRIX – Emotet TTPs
In most cases, the initial stage consists of a Word document weaponized with a malicious VBA macro code or variability, which is used to exploit, for example, the EQUDENT exploit.
The main purpose is to download or drop a second loader.
The general flow of the initial stage is as follows:
Malicious word document –> macros are executed by autoopen() function –> High obfuscation macros –> next stage (second loader)            
Emotet weaponized Microsoft Office document analysis:
badf899787a0dd4f609f6d3f36c835d4276cca499dafe1e231d0e53b8d2b8bd7

eec01fe28ac6aab551edcc27d9309874

bd22fc5bc5d3e63cd9c4029b4f47fbb0a3d2bf58
Emotet actors attached an embedded image to the body of the document of a fake Office 365 message, "THIS DOCUMENT IS PROTECTED" that requested the victim to click on the "ENABLE EDITING" link to disable Microsoft Word read-only mode and then click on "ENABLE CONTENT". The enable content then automatically executes the malicious obfuscated VBA code.
Malicious Office Document attachment of Emotet from 22\12\2020:
Malicious Office Document attachment of Emotet from 2/April/2020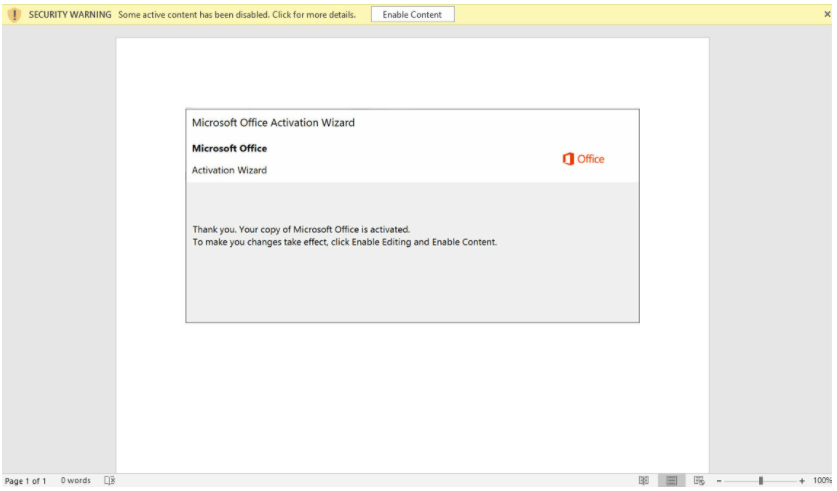 ENABLE CONTENT security warning:

The fake office 365 message:
Emotet contains highly obfuscated VBA code extracted using the OLEVBA tool as there are too many macro streams in the Emotet Malicious Office Documents. The interesting function that popped up Document_Open() enables the macro to run. The OLEBVA description for the Document_Open() function runs when the Word or Publisher document opens.
Emotet actors use a different technique of hiding malicious code/strings such as URLs, IPs, commands, or even shellcode inside the malicious document. They use the UserForms object.
UserForm is a window or dialog box.
Highly obfuscated VBA functions: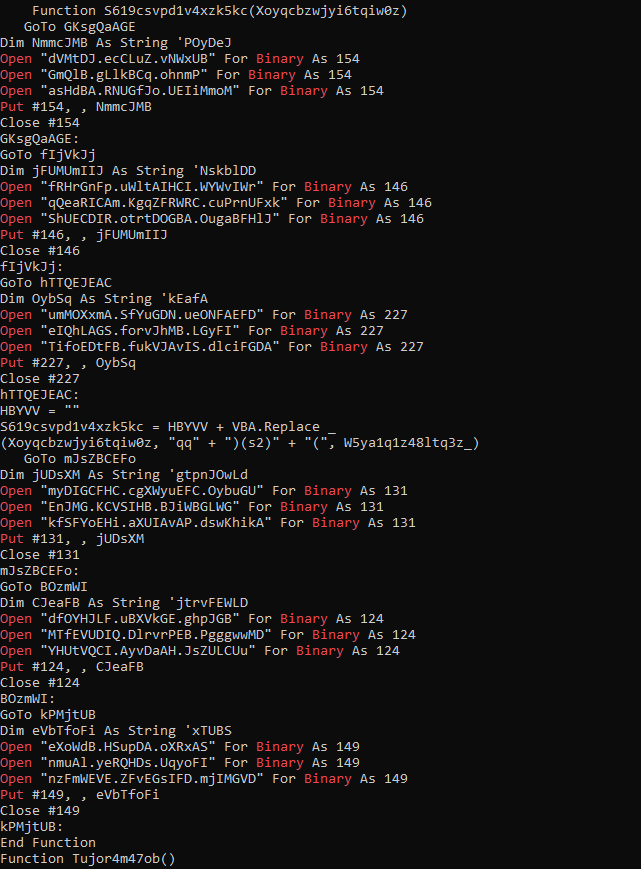 Once the Enabled Content is clicked by the victim, the malicious VBA code executes and the following error pops up: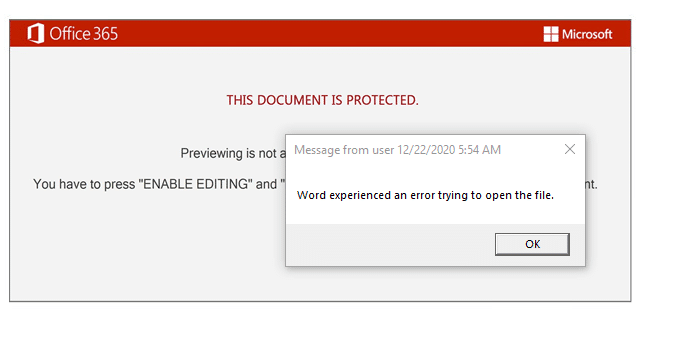 This message seems to be part of the Office Microsoft application, but it is a fake error message that is popped up by the malicious VBA code, which is described in more detail below.
Most of the malicious documents open either a CMD child process, a PowerShell, or a malicious EXE.
In this case, the Emotet actors used a sophisticated technique of execution enabling them to bypass a basic detection rule that checks for child processes of Office applications.
By using a monitoring tool, we have figured out that the Emotet execution uses the "not my parent" technique enabling it to break the process tree execution.
As we can see, no child process was created by the malicious document, with zero results for "process creation":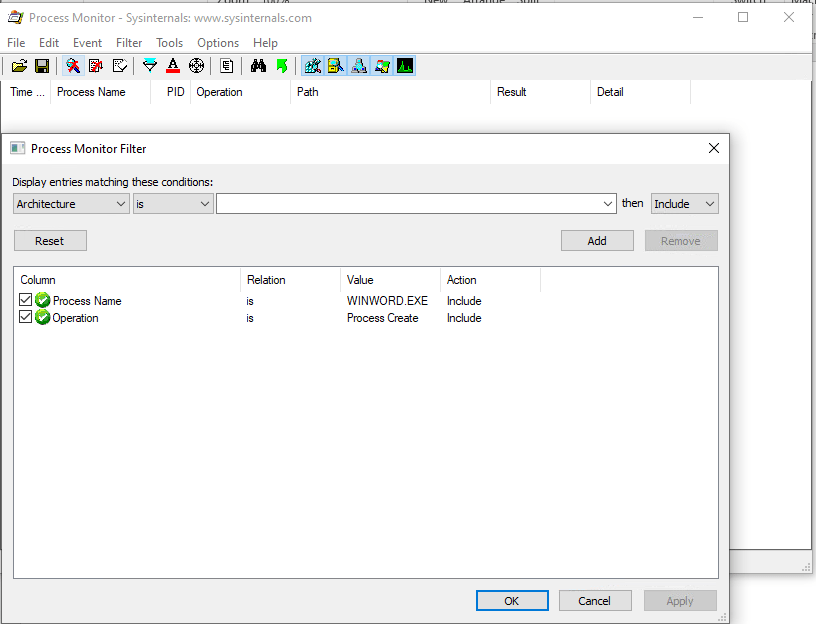 We know that in the last year, all Emotet waves used WMI tasks for processes by using Win32_Process and Win32_ProcessStartup classes, which enabled them to create new processes.
This technique is deployed to avoid behavioral detection of the parent and child processes.
Emotet VBA code – 2/4/2020:

We found that Emotet uses a WMI class to spoof the process execution tree that the created process then executes under WmiprvSE.exe. 
WmiprvSE.exe is a DCOM server and is spawned under the DCOM service host svchost.exe, which is executed with the following parameters:
C:\WINDOWS\system32\svchost.exe -k DcomLaunch
Emotet new wave process tree flow:
Emotet process tree execution from 2\4\2020:

The infection process starts with the cmd.exe process that runs the following command: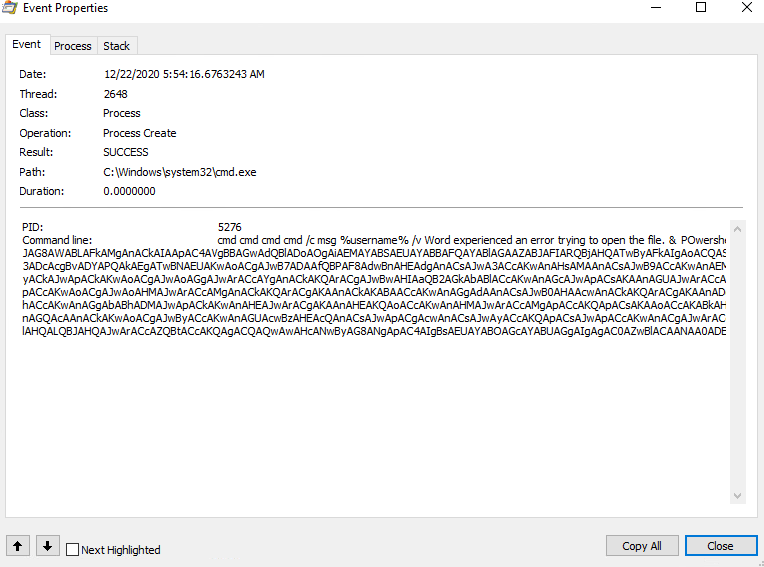 This command contains two execution phases. The first one is the msg %username% /v Word experienced an error trying to open the file, and the second is a PowerShell command.
This is the fake message that pops up when we executed the malicious document: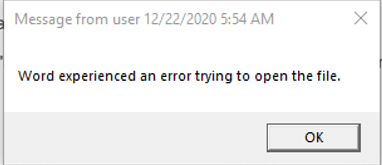 PowerShell instance executed with the following bas64 command:
After decoding the base64 format we found a high PowerShell command.

The obfuscated PowerShell code attempts to download the Emotet from different domains. The Emotet binary downloads a new directory in the user path and the Emotet payload this time is a DLL file.
23/12/2020 The Emotet executed via Rundll32 command:
Malicious Emotet distribution URLs list:
hxxp://zenithcampus[.]com/l/yQ/

hxxp://hbprivileged[.]com/cgi-bin/kcggF/

hxxp://localaffordableroofer[.]com/ralphs-receipt-f2uhf/qTT5DC/

hxxps://johnhaydenwrites[.]com/track_url/P/

hxxps://nahlasolimandesigns[.]com/nahla3/d/

hxxps://football-eg[.]com/web_map/n/

hxxps://vietnhabienhoa[.]com/wordpress/QUTy/
End of 2019, the Emotet PowerShell command looked as follows:

Emotet execution via [Diagnostic.Process]::"Start command
Early 2020, the Emotet PowerShell command looked as follows:

Emotet execution via ([wmiclass]'win32_Process')."cReATe" command.
We know that the PowerShell command is responsible for downloading the Emotet payload. When monitoring the network traffic, we found the following HTTP TCP packet:
Here we can see one of the URLs that we spotted in the PowerShell command: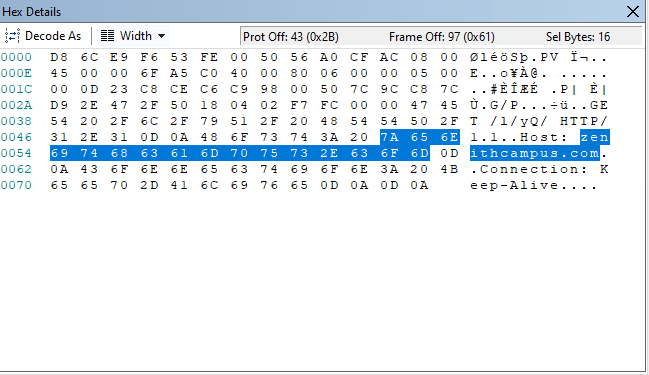 Also, we found that the PowerShell instance writes a new file (Emotet payload). This activity is part of the PowerShell command.
Emotet DLL metadata:
sha256 – 19ecb41e69411104d82f371e60f2cb195797632159b570762cf0a8d0ff37f633

md5 – ac21a6f8d2d0810ca72ee5035e199e22

sha1 – c16d3ad8db9b602365f8115fd1e099ce7bfdcd0b
The Emotet DLL is executed through the Rundll32 by using "#1" that executes the first function.
Normally the use of rundll32 is to provide the function name.
The next process is another Rundll32 instance, but this time we have a different file located in the AppData\Local\ directory and the file extension is "knn" and not a DLL.

Emotet renamed and copied the initial DLL to a new location.
The new dropped payload: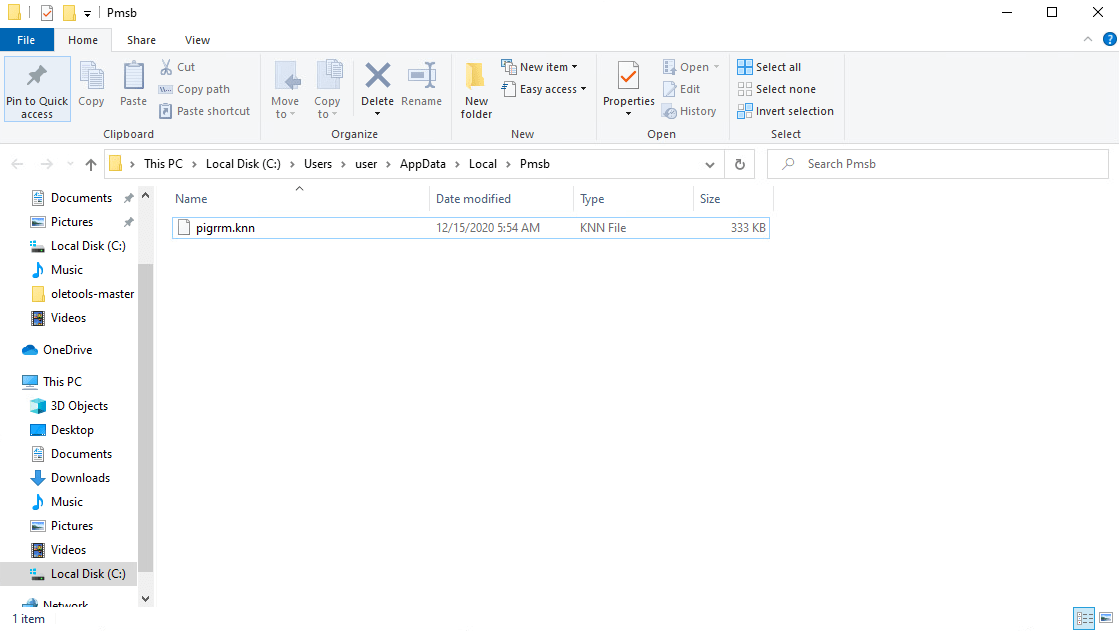 Example of anther Emotet new wave sample:
Emotet gains persistence by modifying the autorun registry key "Computer\HKEY_CURRENT_USER\Software\Microsoft\Windows\CurrentVersion\Run"
creating a new value with a random name and configuring the Rundll32 to execute the Emotet payload.
This enables the Emotet payload to be executed with each reboot of the compromised host.
The following screenshot is another new Emotet wave sample that we investigated in our labs.
The new instance of the Rundll32 stays alive and every few minutes sends a POST request to different C2 (Command & Control) servers. This is the final stage of Emotet before it downloads the next stage payload. As mentioned above, the new Emotet wave drops the Trickbot banking trojan on the infected host.
For example, Trickbot created (downloaded) by the Rundll32 instance:
Conclusion
With each new wave, Emotet proves it can evolve and adapt in face of the ever-growing efforts to detect and block its malicious activities. Cynet expects this trend to continue as Emotet provides a highly capable and malleable "platform" from which threat actors are able to craft innovative changes that refresh the malware's ability to avoid detection.   
Fortunately, Cynet detection mechanisms, coupled with ongoing research by our CyOps team ensure that Cynet customers will continue to be protected from this, and future waves of Emotet. Cynet's CyOps team is always available to answer any questions or provide any support needed for Cynet's customers. 
Indicators of Compromise 
0dc9dd09f4648ede5fa6977b7501117598ae6a779bd8e520df9c0f4e2d176c11 
11eeb7bb4c95d25977a5e852c72783d13d9f82316d457244cf5a05b131e568f1 
a2631e79a778d91b6d74327afda1cd3c8dd15a720f4773dff3215b811899c6e1 
ce41d19b73eb1f453c680aa5e05454a8a28459e3dedf4dcf3a2b21c72a8b8324 
9273fa728382df831da1e3cf97c03471872056d8395475c6c0f2e1bda0235651 
8ff7521a34e62dea87737bf1cc28866963bb4ef7447230cc41a0696aa7acc6b6 
5ac1081d1c50f47fd3143e8669cc043fc7db44bf1049a00bf62524ec991186b9 
161ba342ebafe711ce6eaea658c9522f4a4bec811afd228aae7b6ef102aa61fd 
a2f4ebd5eeae03cff473ed8fc7175292664fe9cebf6f9733559e413bdce71e00 
de4d4a5147cd7218b4b853a55f0eec8007f02f1a90929b5822042254980976a6 
8a5d1efa28a77aa46faa92bb1cd3378c03e7a9632f1d7b8485f19e7c6145c552 
7ee87b1f0b09fd5cede586722b89df8861daac25c0f5074b066236bc5bb2d007 
6e56461fa3cb8773b21b28b5f61822378f09f06ed5b1d95e501746e8745e80be 
6cc7e72d191ef178018e6c69357e34e6d4f6bd677b29f08bd49f1087a18f16d2 
336a66db203d9f1bce5fbb810b979bff316c054563281f4118f1bb860e3d3890 
ef3575e02ad671574f3a35a50411176dc91f65df56e7002f9c1ea40c387364d3 
baa35d9b5c5b89dc8840c4af2d9f9d6ebf74d45e2b2dceb0872312575510274c 
f1e827e0125dbe855a203174937ea8be77b279a81d683b929b61cf954f80d727 
5c704020e9716c2d2c9017e2dd84141b4414871ec818c42a155d9f6682c67b17 
7a6afa727ef2177113d2741d3f3e75f9b7acdd318a4544ab017af88c42611051 
8c9b6592bd931bdf9d859aa126dd4af2db0629a5d7b7d14c954d3e4fffd69404 
9a9248c6530fa135609940acc6dac1d7221c834b78350f24d1ab5a876e1e9ecc 
306b7544effffc4b5c7622af54b1c2039ee3e636df15666e32592e1c1092654e 
15ed461b00d2b941bbfb4794c5d8c4d4adcb239fa930fe0fe40e256580c41545 
06ba84db881884fb8cdddd800592543edfae150f276d520520c7e6ecf8411121 
61e08f86bf49861c76881cfe0e7927c6703d2faf27194f819d2850bf7d81cedc 
a2dd71e53d5b5dbc8d7e60dda732050ba48cc6ff8e535697be66780ac6c953a9 
c67f14d7135af0aa85c0be14863b0b7a2acca31354702c49edbad0a9f909cd5a 
0ecc973bb45d8e9d3a46a8ce139e9e6719a3c141c6db0ee1090bba0508f765c6 
d4b1d6c3b78cfb9b56c99dd33c6ee824bb20216085bcb7afbe4f4c1b476d7974 
bb65bbf2cd0b1248e9153a6183f50e00b5fb9475f63c722088bb3c7a4508d5c4 
822dca32f0ff57042c72738c93294fd15c7593684692070dc02cfe810b8adc6a 
96ec319f4c570ba7845a065cbb54d276f390c2c96837e32a656498bd3e5ccca0 
c511f0a7fdd1988d2ae22e9577ca5ce2c80293b68f77f3590d7b382648a81dff 
14752c983cfb5c4cd1b054ce4d5c5a11ab63058b5622ffac9291e8cbfb639ee3 
5cd76aa75a65c8acd930553bea7b20565a1566f2aaff5036517ed9b1f6e94dc6 
e10088dcf8aa1a249b8f9a676a97c6f3626f1e2fc0535a218e50c63f937134bb 
9dedd4b7678da5fe4eecb902ad64cb9e8d370ed0e56df07b4b43c48ee056625b 
f1f998c6f8c6e92d459afff5670d390acfd46e3204783509f5429372b0fbeb32 
d328449364aab383cdd97480ecaabb657184dfbc972fe9dc64a37619876d5480 
a8ce18b9dc7250c99f537650cfbbc20478da2bb02355358c6799da1ff1515b42 
9d7c341fcc6d569621960b747f6eaafb1669e15a20719d8ddb4ce9d02da78ec4 
493b3af935c3ba0847bd050f39c80f1a7056728cc699a34a61411aa6d8e048e4 
ff11c2168e08056e071554ae5909d8e51d365079a2a60c7889ef950f9b8199ec 
Additional IOC's can be found here